– FREE
– Saturday, April 29, 9:00AM -12:00PM
– Part of the Grow Native Plant Sale –MAY 6-7 2017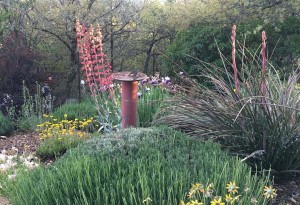 PRESCOTT – Join us for an educational morning to learn that no space is too small for an inspirational landscape. Local experts will provide the knowledge and techniques needed to implement a diverse landscape, no matter the size of your yard. Plants will not be available for purchase. All participants will receive a special gift to be used at our Grow Native Plant Sale the following weekend. Included will be a sneak-peek of the plants that will be available at the sale so you can go home assess, plant, and get innovative!
Workshops:
9:00am: Using Homegrown Medicinal Plants: Nectar Apothecary
10:30am: Attracting Pollinators to Your Garden: The AZ Garden Gals
Registration requested, call 776-9550 or go to highlandscenter.org; participants may sign up for one or all presentations.
The Highland Center's 11th Annual Grow Native Plant Sale is an annual event that features a large variety of native plants to increase the beauty of our landscapes. Admission is free and Members will receive a 10% discount on all purchases when they present their membership card. The Grow Native Plant Sale is wonderful way to support education in the community while beautifying an outdoor space. A wide variety of locally and regionally native plants are available along with Master Gardeners and Highlands Center Naturalists available to answer questions on types of plants, soils, plants that do or do not attract wildlife, and much more. The proceeds from the weekend sales support continuous programming for youth and adults throughout each year. This year we will have an extensive supply of local milkweeds such as Antelope Horn and Butterfly Milkweed.
About The Highlands Center for Natural History:
Formed in 1996, the Highlands Center for Natural History is a non-profit organization developed to foster an appreciation for and knowledge of the natural wonders of the Central Highlands of Arizona. Operating on an 80-acre campus near Lynx Lake through a Special Use Permit with Prescott National Forest, the Highlands Center is a regional hub for lifelong learning, designed to invite discovery of the wonders of nature through on and offsite programs, supported by contributions from individuals, corporations, foundations and community partners. Visit www.highlandscenter.org for more information.