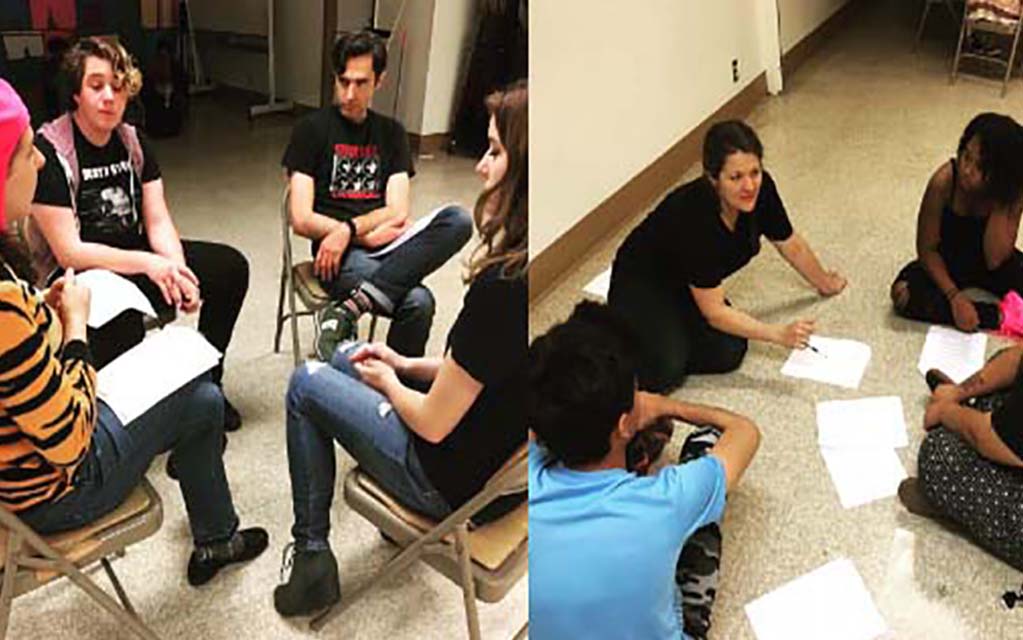 An original play about integrating young people into important conversations in our community to be performed at the Phoenix Public Library May 5, 6 & 7, 2017.
We talk about young people all the time. But how often do we ever talk directly to them about the issues that matter to them?
The Kids' Table is an original play from Rising Youth Theatre that explores the way we often separate young people out of so-called "adult" conversations. This play, created by an ensemble of youth artists, asks the question – what might happen if "the Kids' Table" became a space where youth were not separated out, but integrated into the center of important dialogues? Addressing a wide range of topics, this funny and poignant story will give adults and youth a place to connect and inspire one another.
The Kids' Table brings together a team of youth and adults to perform, design and produce the play, working in a model of shared mentorship and collaboration. Adult artists will share their knowledge of art-making and youth artists will share their expertise and experience, creating multiple opportunities for shared learning. Using the metaphor of a family dinner table, the play will simultaneously invite youth audiences to think about ways they can make their voices heard in the community and invite adult audiences to listen to the young people in their lives.
There is no cost to attend performances of The Kids' Table but tickets should be reserved ahead of time at www.risingyouththeatre.org. Follow the hashtag #TheKidsTable to see an inside look! Performances will be held in the Pulliam Auditorium at the Burton Barr Central Library. Performances will explore a wide variety of relevant social issues and are recommended for ages 10 and up.
Fast Facts about The Kids' Table:
– An original performance created by a team of youth and adults around the metaphor of a "Kids' Table" to put young at the center of significant conversations
– Performances will be held May 5, 6 and 7, 2017 in the Pulliam Auditorium at the Burton Barr Central Library (1221 N Central Ave, Phoenix, AZ 85004)
– Performances will happen at 6:00pm and 7:15pm on Friday May 5, as part of First Friday, and at 1:00pm and 3:00pm on Saturday and Sunday (May 6 and 7).
– Tickets are free, but should be reserved online ahead of time. Donations to support Rising Youth Theatre's work are welcomed and appreciated.
– For more information visit www.risingyouththeatre.org
About Rising Youth Theatre:
– Rising Youth Theatre (www.risingyouththeatre.org) is a professional theatre company based in Phoenix, Arizona that operates on a model of youth working alongside professional artists. Under the direction of co-founders Sarah Sullivan, Xanthia Angel Walker, and Ashley Hare, the company offers young people the opportunity to participate in the arts in a unique way, using a youth development model to increase their potential for personal growth. As an organization, Rising Youth Theatre believes that when youth participate in the creative process they become engaged, passionate citizens of their community and advocates on their own behalf.