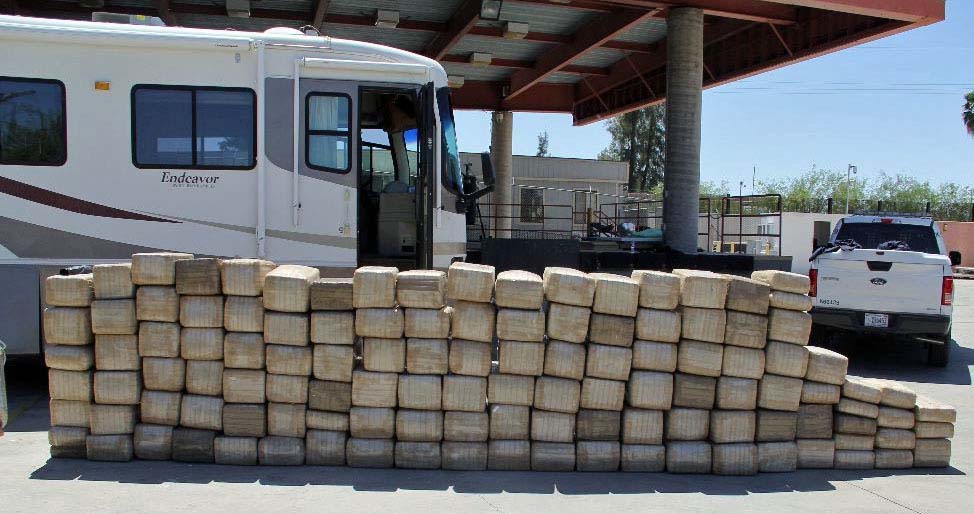 TUCSON – U.S. Customs and Border Protection officers at Arizona's Port of Lukeville arrested four U.S. citizens and seized more than 2,800 pounds of marijuana during two Easter weekend smuggling attempts.
A 55-year-old man from Glendale, Arizona, traveling with a 58-year-old female passenger from Phoenix, was referred for a secondary inspection of his motorhome. A CBP narcotics-detection canine then led officers to find multiple marijuana bundles, weighing more than 2,600 pounds and valued in excess of $1.3 million.
The following day, officers referred a 40-year-old man from Green Valley, Arizona, and his 24-year-old female passenger for further inspection of his Ford truck. With the aid of a narcotics-detection canine, officers found more than 150 pounds of marijuana, worth almost $77,000, within the truck's bed.
Officers seized the drugs and vehicles, and turned the suspects over to U.S. Immigration and Customs Enforcement's Homeland Security Investigations.
Federal law allows officers to charge individuals by complaint, a method that allows the filing of charges for criminal activity without inferring guilt. An individual is presumed innocent unless and until competent evidence is presented to a jury that establishes guilt beyond a reasonable doubt.