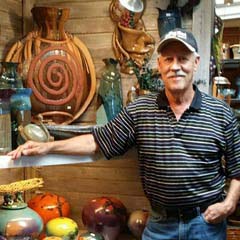 Frank (Alfred) Imel, 73, of Cave Creek, AZ, passed away on April 13, 2017.
Frank was born in New Castle, IN on May 9, 1943. He is survived by Tricha (Imel) Doyle (daughter), Kevin Doyle (son-in-law), Zachary Doyle (grandson), Breanna Doyle (granddaughter), Gary Imel (brother), Rebecca Imel, Jack Imel (brother) and Linda Imel.
He served in the USAF from 1961-1965 and he was a facilities engineer with Honeywell, Inc (Sperry Rand Corp). He was an architect and built custom homes throughout the southwest.
He was also a master potter, started as a hobby in 1970. He then retired from home building to pursue his passion for pottery and owned his pottery studio – Clay and Things in Cave Creek for over 40 years.
A memorial service will be held on Wednesday, April 26, 9:00am at The Horny Toad Restaurant in Cave Creek. Frank was a beloved father, grandfather, friend and a teacher to many – he will truly be missed by all.