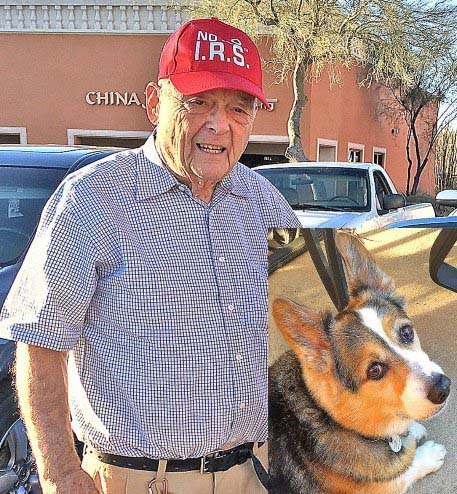 Arnold Ginsberg, born March 20, 1932, died on March 16, 2017 in Aiken, South Carolina.
He was the son of Ben and Dora Ginsberg, of Brookline, Massachusetts. He is survived by his wife of 61 years, Ina, his son Allen, daughter in-law Patty Bourke Ginsberg, grandsons, Ben and Jack Ginsberg, his sister Elaine Cohen, and survived his brother Irwin.
Arnold was in his element both in his cowboy hat and in his yarmulke at Shul. He was a genuinely sweet and kind man. His gift for gab was like no other. He never came across a person that he could not engage in a story.
Arnold traded in his 3-piece suit and the city life of Boston, in 1984, for cowboy boots, jeans and his notorious cowboy hat. He moved to Cave Creek, Arizona and then onto Golconda, Nevada, where he and Ina operated The Buckhorn Dude Ranch for over a decade. Arnold and Ina weren't known for staying put. After years of "rounding up horses" on their ranch, they moved onto the Quarter Horse circuit, where Ina currently shows. Arnie and his trusted Corgi companion, Spike, were his wife's biggest cheerleaders on the Quarter Horse Circuit.
Recently, they again moved from Arizona to Aiken to be closer to their horses. Arnold lived life to the fullest. Only 5 days prior to his passing from cancer, he was along his wife's side watching her show at a local horse show! He was very adamant that he didn't want a funeral. He felt, "Funerals are a waste of money!"
In lieu of flowers, please send a donation to Curing Kids Cancer, PO Box 862123, Marietta, GA. 30062.