CAVE CREEK – Call to the Public brought several people to the podium to tout the success of the Cave Creek PRCA Rodeo and give accolades to all those involved in pulling it all together in a short time frame.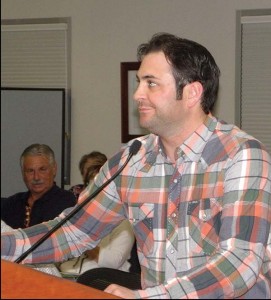 Binion Cervi, who handled the livestock and rodeo production, said it was an "outstanding rodeo" especially with only two months of planning. He was particularly impressed with the way the town rallied together and said they had
31 bareback rider entries this year.
Cervi stated, "I was very honored to be a part of it."
Evelyn Johnson said she received a letter that was passed on to her from Maggie Simpson, who is now 91 or 92 and one of the original founding members of the Fiesta Days Rodeo.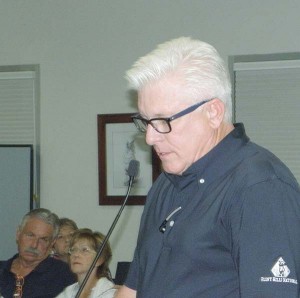 Simpson expressed concern when she heard the Cave Creek Rodeo was going to Buckeye and thanked the town for preserving this part of Cave Creek's history.
Bryan Beaver, who assisted the town with putting the rodeo on, said he bought the Dynamite Arena four years ago and they are the first team roping arena in Maricopa County.
He called on Danny Piacquadio from Harold's to speak on behalf of the rodeo's new board.
Piacquadio thanked council and said the rodeo was a "great show."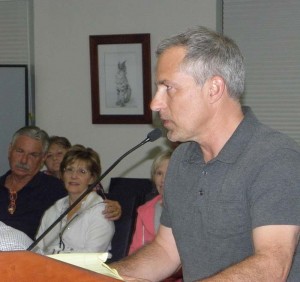 "I am very proud of what the board did," said Piacquadio, stating it was only 12 weeks ago they became determined not to lose the rodeo on its 40th year.
He read his opening statement to the volunteers at their first meeting and thanked the town, especially Mayor Ernie Bunch, for everything they did to keep the rodeo in Cave Creek.
Beaver seconded all of Piacquadio's comments and accolades and said he was initially contacted because he's been involved in rodeo production since he was a child.
He said, "I couldn't get it straight in my mind that the Cave Creek Rodeo was going to be in Buckeye."
Beaver said he told the board he would help them set up an organization with bylaws that will never allow the rodeo to be derailed again.
He said there were a lot of challenges in putting the rodeo on in such a short time frame.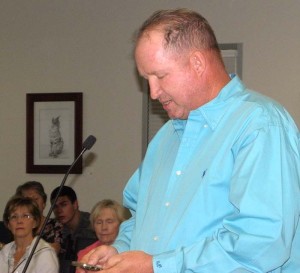 Steve Alley, founder of the Cave Creek Infamous Bulletin Board Facebook page, which has over 7,000 members, said he hears from a lot of people in town and read some feedback he received from Will LeRoy.
LeRoy stated it was the "most professional, enjoyable rodeo I've ever been to for a long time."
Before approving the consent agenda, Councilwoman Eileen Wright made a few corrections to the meeting minutes.
Associate Planner Luke Kautzman introduced the site plan for Rare Earth Gallery, a new over 10,000 square-foot commercial building on 1.7 acres on the southeast corner of Cave Creek and School House roads.
Councilman Thomas McGuire asked if the project conforms to the town's ordinances.
Kautzman said it does.
Wright said she doesn't believe left turns on to Cave Creek Road meets the town's health, safety and welfare standards and said she would like to stipulate there be no left turns.
Bunch said that would be something to consider at the time a motion is made.
Kautzman said he's not a traffic engineer but when the previous project at that corner was being reviewed, the town's traffic engineer and the applicant's traffic engineer had no problem with left turns.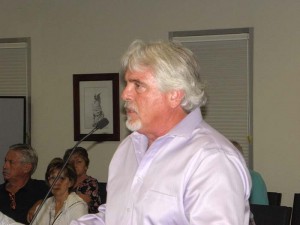 Wright said that was 10 years ago and she still wanted to stipulate no left turns.
Bunch confirmed there was a median when the last traffic review was done.
Greg Zimmerman, architect for the project said ADOT finds it safe to have left turns 150 feet from an intersection but they pulled their entrance another 50 feet so that it is about 200 feet from the intersection.
He said the issue was discussed at the planning commission meeting but they didn't want to set a precedent.
Zimmerman also pointed out with about 30 parking spaces, not everyone will be coming and going at the same time and it would generate very low density traffic.
McGuire asked how long he thought it would take to complete the project.
Zimmerman replied, "Longer than the tent," for which the temporary permit will expire in June.
He said they've targeted five months.
During public comment, Kerry Smith said 10 years ago when the traffic study was done Red Truck and the café weren't around.
Smith said in his March 20 letter to the town he stated his understanding that the business is valuable to the town but when the tent was erected it was under the understanding there would be a smooth transition from the tent to the school building.
He said the town needs to revise its ordinances in a way so temporary structures are temporary and not set a precedent.
Wright, in requesting items to be placed on a future agenda, said there needs to be discussion and action regarding the extension of temporary tent permits so they are not extended as well as the town's grease trap ordinance and its lack of enforcement.
Mary Weiss said she wanted to know what the design of the building is and what it will look like. She asked if it was modern or southwestern.
Zimmerman said it was southwestern with stucco and rough sawn timbers.
Weiss said she didn't like the modern architecture in town and thought it took away from the town's Western feel.
Bunch explained the town has no jurisdiction over design.
Weiss was surprised that it didn't.
Bunch moved to approve the site plan, adding a seventh condition for traffic and engineering approval, stating he'd like to see the business continue.
Councilwoman Susan Clancy seconded the motion and said the business is "such an asset to the town."
Council voted unanimously to approve the site plan.