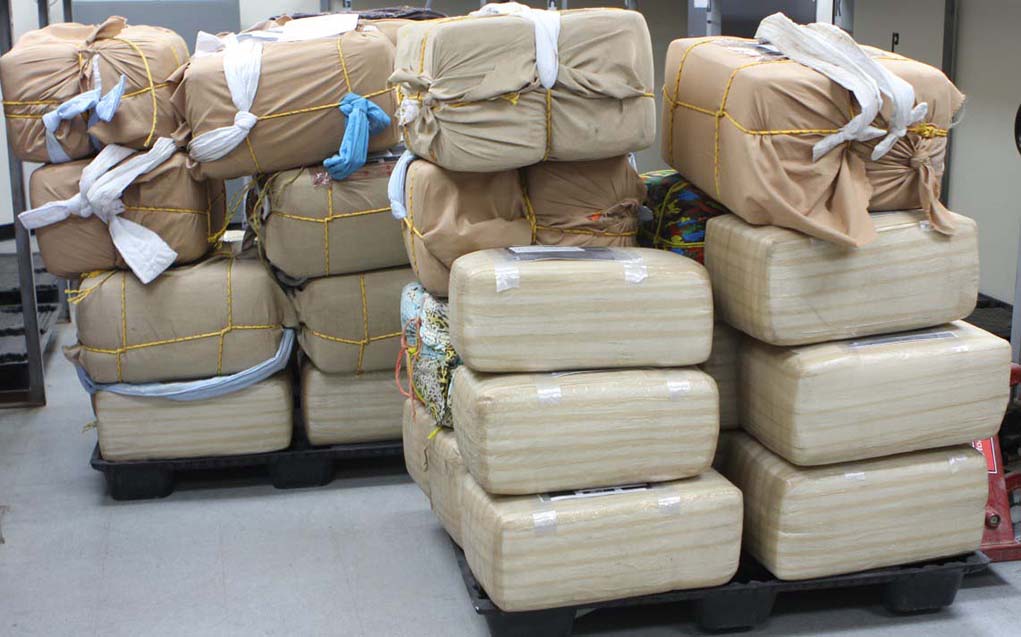 TUCSON – Tucson Sector Border Patrol agents seized two vehicles and more than $585,000 worth of marijuana on Saturday afternoon in Nogales.
Agents assigned to the Nogales station mobile surveillance unit spotted a suspicious blue Chevy Colorado pickup truck and silver Dodge pickup truck travelling in tandem away from the border. Agents attempted to conduct an immigration stop but both vehicles refused to stop. Subsequently, agents engaged in a pursuit with the Chevy Colorado. The driver, a U.S. Citizen juvenile, attempted to evade arrest by driving through roadway signs and slamming on the brakes of the Chevy resulting in an accident with the pursuing agents. Upon arresting the juvenile, agents found more than 500 pounds of marijuana in the truck. Despite the teenagers reckless driving and vehicle accident no one was injured.
Simultaneously, agents utilizing surveillance technology continued observation of the Dodge truck until seeing the driver abandon the vehicle and flee into a nearby field. Responding agents found more than 500 pounds of marijuana inside the vehicle but were unable to locate the driver.
The vehicles and marijuana were seized while the juvenile driver is facing criminal charges for smuggling.
Federal law allows agents to charge individuals by complaint, a method that allows the filing of charges for criminal activity without inferring guilt. An individual is presumed innocent unless and until competent evidence is presented to a jury that establishes guilt beyond a reasonable doubt.
Anyone wishing to report suspected illegal activity may do so and remain anonymous by calling
1-877-872-7435 toll free. Reporting suspicious activity to any law enforcement agency could result in saving someone's life.