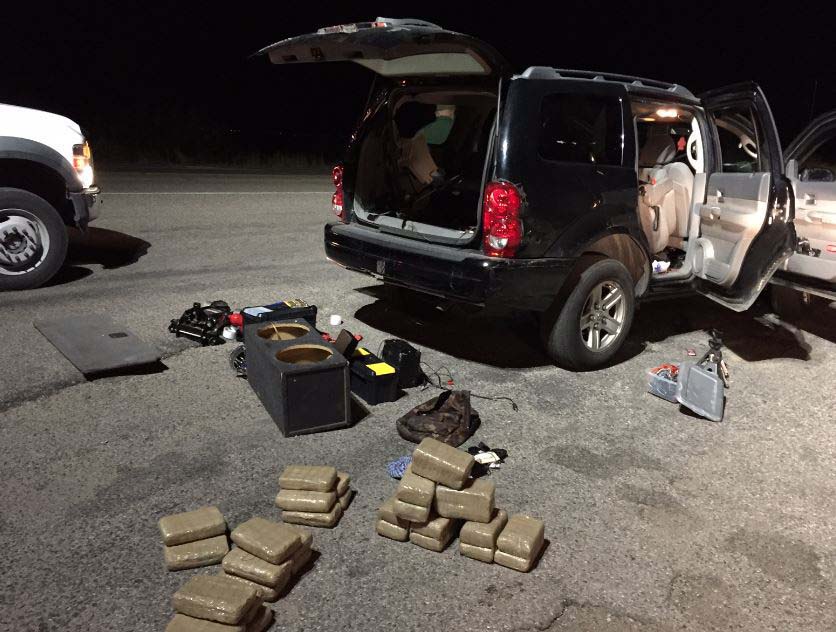 TUCSON – Willcox Station Border Patrol agents arrested three subjects Wednesday evening after finding more than 42 pounds of marijuana, worth more than $21,000, in a Dodge Durango at the immigration checkpoint on State Route 80 near Tombstone.
Agents conducting immigration inspections directed the female driver to a secondary inspection area after a canine alerted to an odor it was trained to detect. While in secondary, agents uncovered 32 bricks of marijuana concealed in a backpack and a speaker box.
The driver and two passengers, all U.S. citizens from Douglas, Arizona, were arrested for smuggling contraband and will be processed per Tucson sector guidelines.
Federal law allows Border Patrol agents to charge individuals by complaint, a method that allows the filing of charges for criminal activity without inferring guilt. An individual is presumed innocent unless and until competent evidence is presented to a jury that establishes guilt beyond a reasonable doubt.
Anyone wishing to report suspected illegal activity may do so and remain anonymous by calling
1-877-872-7435 toll free. Reporting suspicious activity to any law enforcement agency could result in saving someone's life.