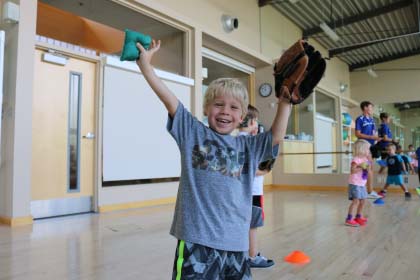 Join us Saturday, April 8, for a family fun sleepover at the Stadium. Bring your tents and sleeping bags and take part in baseball themed activities like stadium tours, home-run derby, batting cages and a play area. Team up as a family and take on the stadium scavenger hunt and bring your favorite stuffed animal for teddy bear fireside stories.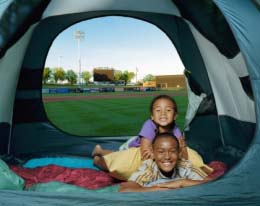 Dinner will be provided and the night will be capped off with a movie and popcorn on the field before lights out. In the morning, you'll wake and pack up your campsite by 8:30 a.m. (Note: You are welcome to leave after the movie – staying overnight is not required.)
There are only 200 spots available, and the cost $30 per person for residents and $45 for non-residents, 3 and under are free. For more information, visit ScottsdaleAZ.gov and search "Stadium Sleepover", or register today at Recreation.ScottsdaleAZ.gov.
Take Me Out To The Campout! A Stadium Sleepover
Saturday, April 8 at 4 p.m. – Sunday, April 9 at 8:30 a.m.
Scottsdale Stadium
7408 E. Osborn Road
480-312-0205
Plan your Summer:
Our summer programs are fast approaching! Learn what we're offering this June, July and August when our summer activity guides goes online April 9. Swimming lessons, dance classes, card games, yoga and more!
Registration begins May 1 for residents, and May 2 for non-residents.
Learn more: Recreation.ScottsdaleAZ.gov
– Indoor Multi Sport Class for Kids
– Girl's Night Out – April 22. Ladies- looking for a fun, unique night out with your friends? Guys- looking to treat your lady to an inexpensive date night designed just for her? Then join us Saturday, April 22, for Girls Night Out at the Stadium, a free, unique adult event for 21 and up! Come prepared for shopping, beauty tips and health/fitness information in our vendor area, while enjoying gourmet food trucks, wine and beer. Then cap off the night with a movie on the field!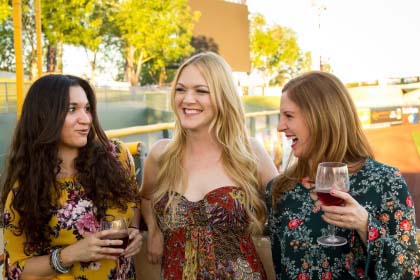 For more information visit ScottsdaleAZ.gov and search "Girls Night Out."
Saturday, April 22 from 6 – 10 p.m.
Scottsdale Stadium
7408 E. Osborn Road
480-312-0205
April Pool's Day – April 30
Join us for a special event to educate children and families about the prevention of drowning. The event is FREE to attend! Activities include:
– Free swim from 1 – 5 p.m.
– Raffles and prizes
– Exhibits & safety demonstrations
For more information, visit ScottsdaleAZ.gov and search "April Pools Day."
April 30 from 1 to 4 p.m. (Free public swim lasts until 5 p.m.)
Eldorado Aquatic & Fitness Center
2301 N. Miller Road
480-312-2484