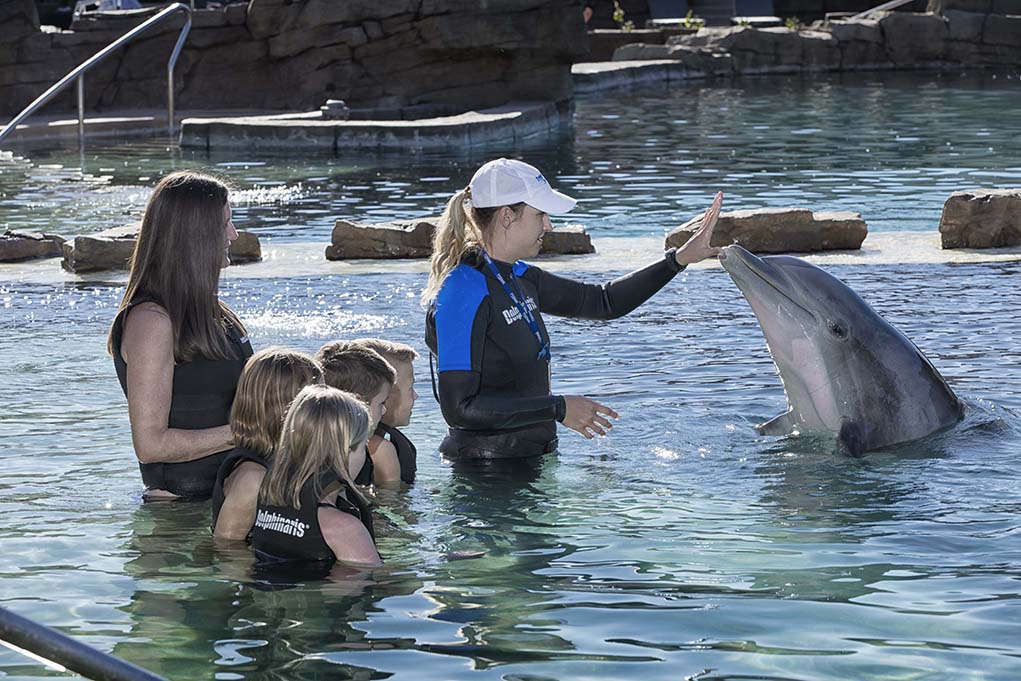 SCOTTSDALE – Dolphinaris Arizona is offering a summer day camp for kids like no other in the Valley. At Dolphin Explorer Camp, 5th through 12th graders will spend the day with a dolphin trainer, where they will interact with dolphins in the water and from land while learning about dolphin intelligence and behavior, dolphin care and feeding, physiology, ocean conservation, and more.
Camp sessions are from 9AM – 2PM Monday through Friday from June 5 through August 25. The camp includes a land and a water dolphin experience, lunch, a t-shirt, an 8 X 10 photo and certificate of completion. Cost is $199 per student per day. Groups of 10-15 are $179 per student per day. Reservations can be made by emailing lwitt@dolphinaris.com.
Dolphinaris Arizona is located in the OdySea In The Desert Complex adjacent to the OdySea Aquarium on the Salt River Pima-Maricopa Indian Community at Via de Ventura and the 101 in Scottsdale.
As a federally licensed facility, Dolphinaris adheres to the highest national and international standards of dolphin care, and endeavors to not just meet but exceed standards set and enforced by the USDA. All the dolphins at Dolphinaris Arizona were born in U.S. licensed facilities and raised under human care. Trainers only use positive rewards such as toys and other forms of environmental enrichment to teach animals husbandry and other cooperative behaviors. Dolphinaris maintains a full time veterinarian on staff specifically trained in marine mammal medicine.
The company has gone to great lengths to ensure its dolphins are thriving in the Sonoran Desert. The water in the lagoon is cooled in the summer and warmed in the winter, keeping the dolphins and visitors a comfortable 75-80 degrees all year long. High-tech filtration ensures that the every one of the 900,000 gallons of water passes through filters about 16 times a day. The entire habitat was designed to provide animals with variety such as access to sun or shade, indoor or outdoor pools, and different social companions, for example.
Dolphinaris aspires to deepen respect for dolphins and the natural world, and encourage visitors to take actions, large and small, that help conserve our oceans. Dolphinaris operates a foundation, which works in partnership with several universities, providing an opportunity for students to study dolphin biology, physiology, behavior, medicine and conservation issues for marine life. The company also sponsors a conservation study that monitors the ecosystem of dolphin habitats in the wild and how changes in the environment affect the dolphins and other wildlife. A portion of sales at Dolphinaris Arizona will be donated to ocean and marine life conservation.
Owned by Ventura Entertainment, Dolphinaris operates five other dolphin facilities in Mexico and is one of the leading providers of dolphin experiences. Dolphinaris abides by the highest standards of animal care both nationally and internationally. Dolphinaris is a member of the European Association for Aquatic Mammals and the Mexican Association of Habitats for Interaction and Protection of Marine Mammals.