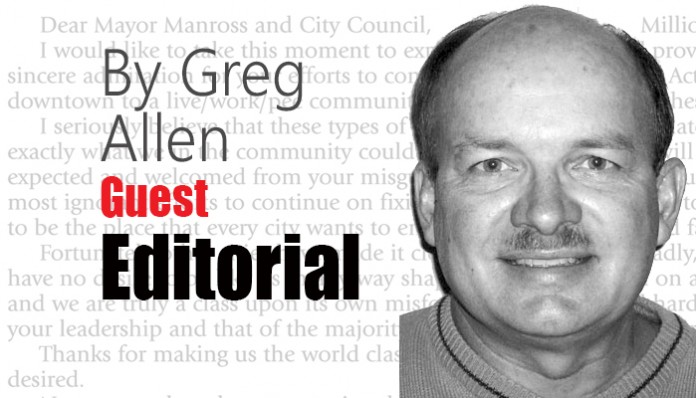 In the 1983 film "Mr. Mom" Michael Keaton and Teri Garr play a couple battered by hard times. Keaton's character, Jack Butler, loses his job at the auto plant. Garr's character, Caroline, must then make a living for the family at the ad agency where she's employed and Jack is thrust into the role of taking care of the kids.
Keaton's character eventually gets his job back and his wife becomes a stay-at-home mom, but before that Caroline is given the task of coming up with a sales pitch to salvage the agency's largest account, Schooner Tuna.
Her marketing idea turns into a television commercial in the end. In the commercial the President of Schooner Tuna introduces himself to say: "We at Schooner Tuna can sympathize with all of you hit by the hard economic times. In order to help we've decided to reduce the price of a can of tuna by $.50 until the crisis is over. After that we will resume our regular pricing." At the end of the commercial he raises an American flag and a can of tuna to say his company has a heart.
Although the film may be fictional it gives rise to the premise of marketing America. We should be honored to pitch such a great nation. "Made in America" used to mean something.
Of the top ten retailers in the United States Wal-Mart is the largest. The others are Kroger, Costco, Home Depot, Walgreen, Target, CVS, Amazon, Albertsons and Lowe's. Wal-Mart used to pride itself in selling American made products, but that's no longer the case. Around 90% of what they sell is made in China.
The average Chinese worker earns $4.69 an hour. Adversely, the average wage for an American worker is $21.84 an hour. The American workforce can't compete with those wages. However, I'm of the opinion we don't need to.
Embedded in this piece is an ingenious marketing plan – free for the taking. If retailers were to cut back on the lion's share of foreign products they buy, even though American products may come in at a higher price, it wouldn't matter to consumers if they marketed their products in the form of a sales plan to "Resurrect America." Level with consumers in ads and commercials such as they did in "Mr. Mom" and they'll take notice. You may think sales will suffer, but I beg to differ. I believe it will boost sales and help the economy. I even foresee it resurrecting struggling industries that are on the verge of extinction because they can't compete with cheap imports. (Sound like a lofty idea? Not really)
Businessmen, take heed of the strategy. Once a "Resurrection of America" mindset is instilled in the people it will spread like wildfire. Begin that advertising theory for your business from now on and watch the benefits. (Make it more than a slogan, live it)
Having a good marketing plan is an excellent goal; "Making America great again" is what Donald Trump won with. The Obama administration never heeded that.
A patriotic spirit arose in many last year. There are those who would endeavor to hinder that now, but they can't kill our spirits. In light of being American, stand to face the ridicule.
The American people are no longer satisfied with politicians who have no desire to market America. Instead of growing government and creating a mountain of headaches for the private sector I believe the Trump administration will shrink it.
I'm convinced the Obama administration tried to divide. We're not African-Americans, Native Americans, Asians, Latinos, Jew or Gentile, we're Americans.
American pride is far from extinguished and we're not ones to walk around with a hand out, but those who do suffer for it.
We were like the prodigal son, lost our way. We need to turn to the One who can bless and that most certainly isn't the government. It's about time we take a stand, dust ourselves off, and walk away from the hog trough.
Greg Allen's column, Thinkin' Out Loud, has been published bi-monthly since 2009. He's an author, nationally syndicated columnist and the founder of Builder of the Spirit in Jamestown, Indiana, a non-profit organization aiding the poor. He can be reached at www.builderofthespirit.org or follow him on Twitter @GregAllencolumn.