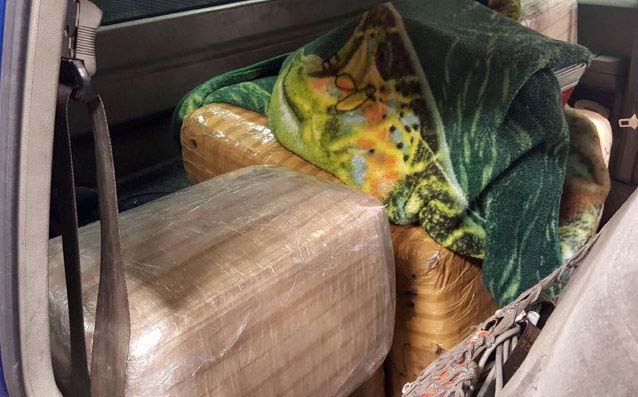 TUCSON – Border Patrol agents from the Willcox Station arrested two individuals Monday night after finding more than 175 pounds of marijuana in the back of a Chevrolet truck at the immigration checkpoint on State Route 191 near Elfrida.
An agent conducting an immigration inspection on the occupants of a blue pickup truck noticed what appeared to be bundles of contraband partially covered by a blanket behind the seats. Upon closer examination, the agent uncovered six large bundles and a box containing nine smaller bundles of marijuana worth approximately $88,000.
The drugs and truck were seized, while the driver and passenger face charges for transporting narcotics.
Federal law allows agents to charge individuals by complaint, a method that allows the filing of charges for criminal activity without inferring guilt. An individual is presumed innocent unless and until competent evidence is presented to a jury that establishes guilt beyond a reasonable doubt.
Anyone wishing to report suspected illegal activity may do so and remain anonymous by calling 1-877-872-7435 toll free. Reporting suspicious activity to any law enforcement agency could result in saving someone's life.