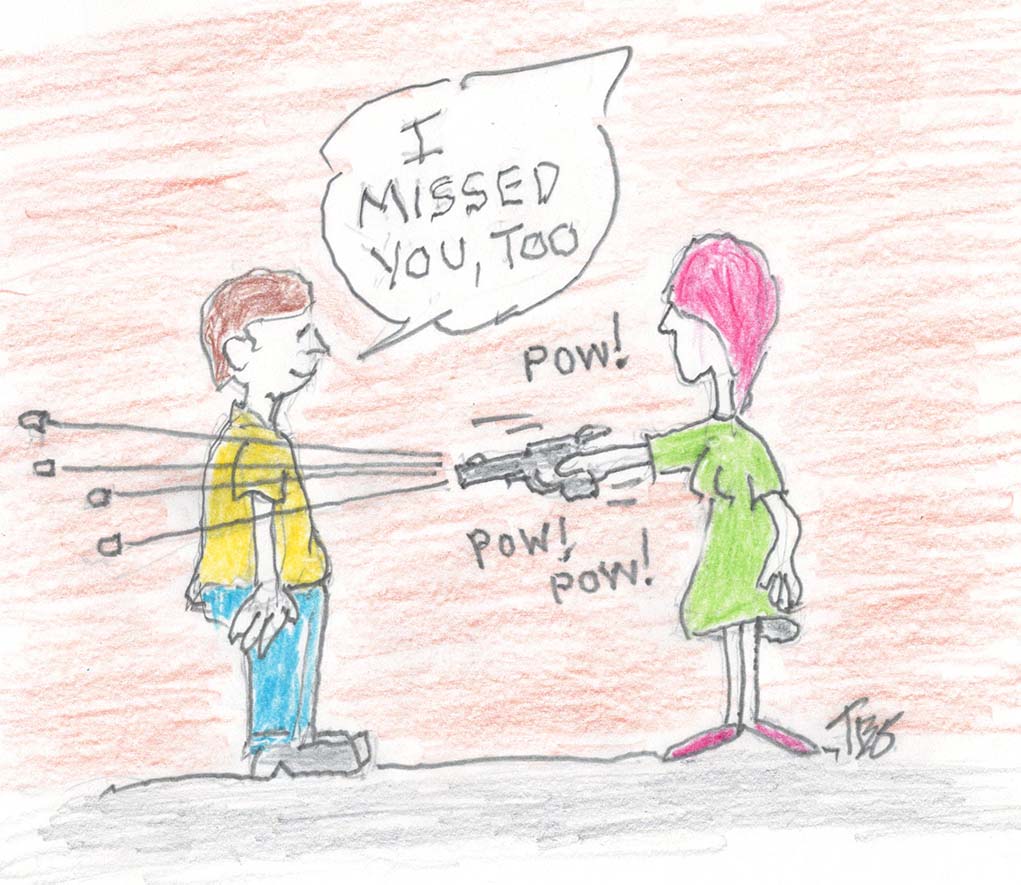 "Joseph Donald 'Don' Gibson, 1939-2014, died Dec. 8 from complications of pneumonia. By request, there will be no funeral services held.
Don was a man full of love for his family. He is survived by four children, Francisca Gibson Carlson, Chris Gibson, Holly Gibson Pastor, Joseph 'Bob' Gibson (predeceased by his son Peter Gibson), as well as seven grandchildren, and his sister, Gail Faupel. He was very much looking forward to being restored with his love, Karen Nielsen.
Don had a long life dotted by achievements both professionally and personally. He holds several patents, has electronic components on the moon and was 26 years sober. But most of all, he loved to help and support friends and family. He will be sincerely missed. Rest in Peace."
We visited Don in Paulden, Ariz. shortly before his passing. We called him and emailed him many times and then found the above on Facebook.
Don was an incredibly bright man. I hired him at my first job in Radiation Inc. around 1961. I was managing a telemetry design group working for NASA, some of its contractors and also missile companies.
I hired Don as an electronic technician as he finished a navy enlistment. He was assigned to work for an engineer whose designs needed overview and often, redesign. After the first few designs, with Don's help, they were usually perfect. Don was a high school graduate who had never seen a transistor when we hired him, yet he was quickly more able than most college graduate engineers.
Don developed as an engineer and yes, as the obituary states, some of his designs went to the moon.
Radiation was acquired by Harris Corp. and I was soon transferred to their semiconductor group. Don came to see me. He said he was bored so I hired him. Through a collection of books he managed to become an expert on semiconductors and soon was leading programs. Customers sometimes referred to him as Dr. Gibson, thinking he was a Ph.D.
I was drawn into Don's life when troubles emerged. He said he was a beatnik while stationed in California. Apparently he kept a keen eye on what was going on socially and he moved toward the hippy lifestyle.
He felt embarrassed that he was racist because he was born and raised in northern Florida, which is very conservative.
Segregation was still practiced in Melbourne, Fla. in the 1960s and blacks lived in south Melbourne. Don began partying at a South Melbourne bar and developed black lingo. He was dancing with a black girl and when he went into the men's room he was assaulted by three black men. They stole his wallet, beat him bloody and told him to stay out of their bar.
I visited him in the hospital and convinced him to knock off his attempts to be a race counselor.
Don had a cute wife and as the leader of a small group of married couples it wasn't hard to convince them how much fun wife swapping would be. His wife took up with a man and when Don found out he broke into the man's house and beat the crap out of him. Don was arrested, jailed and sent to a halfway house awaiting trial. I visited him there and he had a big lump on his head. I asked what happened and he said he merely picked up a pool stick and a crazy guy swung his stick and hit him.
I asked him why he assaulted a guy after he led the wife swapping stuff. Don said, "There were terms and she wasn't supposed to fall in love with anybody and she did."
I think they got divorced and he was placed on probation.
I resigned from Harris Semiconductor in late 1979, spent a year as CEO of Datamedics in Boca Raton, Fla. But left there after a year (another future story) and started Medicomp, Inc. in Melbourne.
Soon after, Don showed up and asked if I had an opening. Medicomp was designing an electronic Holter monitor to record heart beats over a 24 hour period. As usual, Don became expert in reading EKGs and led several projects.
Don was attractive to women and had numerous girlfriends and a marriage or two. At that point he was married to a woman named Wanda.
She called me one morning about their marital problems and she had called law enforcement to arrest him. I looked for him and found he had corralled our software engineers in the conference room to lecture them on something planetary. I asked him to come out and talk but he threatened me, so I went out and saw a uniformed SWAT member in the hallway. I asked him to hide behind a wall. Don soon came out and he held his arms out to be cuffed. Once again he was placed on probation.
I sold Medicomp and joined General Instrument to lead their semiconductor company in Chandler, Ariz. Within months, Don called me and I hired him again. Although Don had plenty of semiconductor experience from Harris Semiconductor he quickly adapted to the product line and led development teams. I got a call from Wanda saying Don had a loaded gun, had barricaded their doors and she had called the police.
The judge somehow discovered Don was an alcoholic, placed him on probation, stipulated he was to join Alcoholics Anonymous (AA) and said he would be jailed if he left the program.
Overnight Don became a studious AA member and as the obituary points out he was sober for 26 years.
Later Don and his AA sponsor were seated together and Don was sponsoring his first AA member in a Chandler restaurant. He had left Wanda but she came in and demanded he return home. He told her he wouldn't so she left, returned with a pistol and began shooting at him, trying to blow away his privates. Policemen were seated in the restaurant and only intervened after the pistol clicked, showing it was finally empty.
I visited him in the hospital. It turned out she was such a bad shot she hit no vital spots, fortunately. Later Wanda was jailed and Don pledged to show up at any attempt to shorten her sentence.
A mutual friend and former customer, Sandy Cohen, head of MIT's military computer lab employed him and that is the last I saw of Don for years. He later discovered he was part Native American and traveled all over the Southwest for native dances while living on Social Security.
Rest in Peace, dear Don!