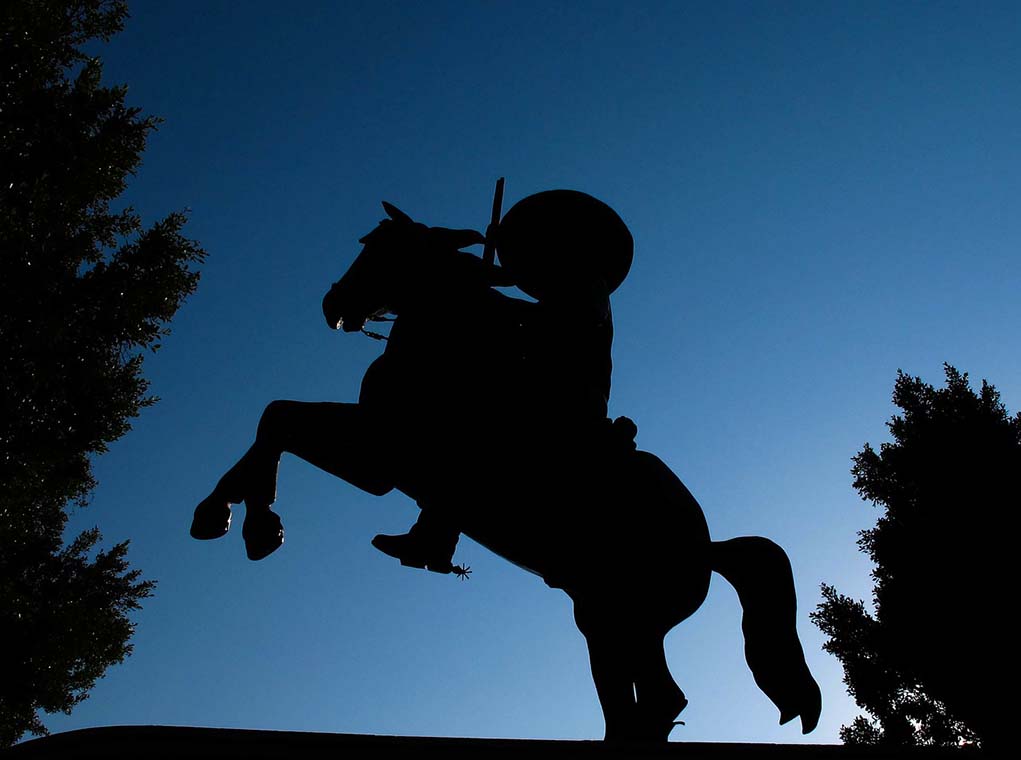 Paints and sculpts Wildlife at Arizona Fine Art EXPO
SCOTTSDALE – There are some similarities between artist Kelby Love and his great, great grandfather, the legendary African-American cowboy and folk hero, Nat Love. They both are and were known for their sense of adventure, high-energy, and love of the land. But while Nat Love worked cattle drives in Arizona and had met famed lawmen Pat Garrett, Bat Masterson and even the outlaw, Billy the Kid, his descendant, Kelby Love, has made a name for himself by painting and sculpting wildlife from all over the world.
Kelby Love is one of the featured artists at the Arizona Fine Art EXPO, the 10-week fine art show in north Scottsdale featuring 110 patron-friendly working studios. The show runs through Sunday, March 26 from 10 a.m. to 6 p.m. daily, rain or shine, under the "festive white tents" at 26540 N. Scottsdale Rd., on the southwest corner of Scottsdale and Jomax Roads, next to MacDonald's Ranch.
Love grew up in Elkhart, Indiana, where his grandmother instilled a sense of adventure in him.
"She cleaned offices and when people threw out their calendars or other photos of foreign places, she stapled them together and created 'Kelby's Travel Book,'" Love recalled fondly. "I was very fortunate to grow up in a strong family unit, and she inspired me to see the world."
He attended the Pratt Institute in Brooklyn and landed a job as an illustrator for Field & Stream and later National Geographic magazines. Throughout the 1980s, he traveled extensively, painting everything from fish to tigers and elephants. A friendship with former New Orleans Saints football player Irv Smith prompted him to visit Arizona several times, and he moved to Scottsdale permanently eight years ago to be closer to his mother, who had retired to Arizona after his father's passing.
A sports fan and avid outdoorsman, Love likens the Arizona Fine Art EXPO to a championship game.
"This is our Art Super Bowl," he said. "Our 'team' is comprised of nationally-renowned artists from all over the country, and the show's 10-week duration challenges us to create our best work each day for our patrons."
And similar to a sports team, Love enjoys the camaraderie of working with the other EXPO artists.
"We share and critique each other," he explained, adding that he only began sculpting a year ago.
Now in his eighth year at Arizona Fine Art EXPO, Love decided to try sculpting after the tragic passing of former EXPO artist and Zimbabwean sculptor, Jonah Runyanga.
"Jonah was an outstanding stone sculptor and a friend. I had always admired his work, and wanted to try working in a different medium. I was very fortunate to have another talented sculptor, Dave Venell, give me some tips regarding scale and composition," he said.
He was immediately drawn to sculpting, comparing his new passion facetiously to "having an affair." And, he said sculpting has helped him improve his painting.
"I can't trick you with sculpture because it's three-dimensional, whereas with a painting, I can hide a small imperfection with color," he said. "Sculpting has made me step back from paintings, look deeper at them and really examine the anatomy of my subjects."
In his spare time, Love donates his time to help special needs children, and he also loves to cook.
"We used to own a restaurant in Elkhart, so every weekend I love to cook my famous 'Love Dim Ribs' for the artists," he said.
Art enthusiasts can see Love and the other artists create original pieces of work at the Arizona Fine Art EXPO through Sunday, March 26. Season passes cost $10; season passes for seniors and military are $8; and children under 12 are free. Parking is free. For more information, call (480) 837-7163 or visit www.ArizonaFineArtEXPO.com.