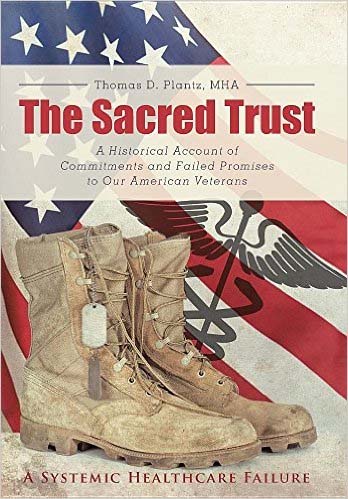 TUCSON – In his new book, "The Sacred Trust: A Historical Account of Commitments and Failed Promises to Our American Veterans" (published by Archway Publishing), author Thomas D. Plantz, MHA, discusses the promises made to United States veterans, how those promises have been broken and how "the sacred trust" can be restored.
"A 'sacred trust' (covenant) established between the U.S. government and its war veterans as early as colonial times, promised veterans that they would be cared for – physically and mentally," explains Plantz. "Sadly, the Veterans Affairs (VA) crisis and subsequent scandal of 2014 precipitated a horrific negative fallout across America defining the current VA healthcare system as undeniably broken."
Plantz provides a blueprint for restoring the VA healthcare delivery system: He argues that it will take the will of a newly-elected president, a committed Congress and a new cabinet secretary for VA along with an American resolve in assuring that the sacred trust is honored and restored.
Readers unfamiliar with problems veterans currently face will be offered insight into the myriad issues "defining how veterans are being cared for in our VA hospitals today and what is needed to improve this serious national problem."
Thomas D. Plantz, MHA, was born and educated in Minneapolis. He is a retired health care executive with a Master of Healthcare Administration from the University of Minnesota and is a fellow of the American College of Healthcare Executives. Plantz served as a U.S. Air Force officer and is a Vietnam combat veteran. He draws upon his Midwestern values, patriotism and health care expertise to paint a portrait of broken promises in "The Sacred Trust." Plantz currently lives in Tucson, Arizona.