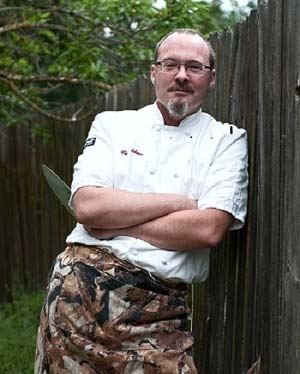 PHOENIX — Hank Shaw describes himself as "a cook who hunts, fishes and forages – not the other way around."
"There is a difference, albeit subtle," Shaw once said during an interview with The Huffington Post. "My overarching goal is to convince more people who are interested in real, honest food into the outdoors, to forage, fish and hunt for themselves."
Shaw will share more about his wild food movement Feb. 6 when he brings his "Buck, Buck, Moose" cookbook tour to the OneAZ Credit Union Pavilion, located at the Ben Avery Clay Target Center, 5060 W. Skeet St., in Phoenix.
Shaw will conduct a venison cooking demonstration during the free event from 6:30 p.m. to 9 p.m. There also will be signed copies of his latest cookbook available for purchase.
The renowned hunter, angler, gatherer and cook also is a prolific author. In addition to his most recent cookbook, "Buck, Buck, Moose: Recipes and Techniques for Cooking Deer, Elk, Moose, Antelope and Other Antlered Things," Shaw has penned "Hunt, Gather, Cook: Finding the Forgotten Feast," and "Duck, Duck, Goose: Recipes and Techniques for Cooking Ducks and Geese."
An excerpt from an Amazon book review of "Buck, Buck, Moose," which contains more than 100 recipes: ". . . Peppered throughout are stories of the hunt and essays on why venison holds such a special place in human society. Venison is far more than mere food. It is, in many ways, what made us human."
As a food writer, Shaw's "Hunter Angler Gardener Cook" won best Individual Food Blog by the James Beard Foundation in 2013. His blog (honest-food.net) also was nominated for the award – considered the "Oscars of the Food World" – in 2009 and 2010.
Shaw's work has been published in Food & Wine, Petersen's Hunting, Garden & Gun, Organic Gardening, The Art of Eating, Field & Stream and several other publications. He also has been featured on television programs like Travel Channel's "Bizarre Foods" with host Andrew Zimmern and CNN's "Somebody's Gotta Do It" with host Mike Rowe.
Shaw hunts, fishes and forages near Sacramento, Calif., then lets his talents and creativity take over in the kitchen. Follow Shaw on Facebook: https://www.facebook.com/huntgathercook/.