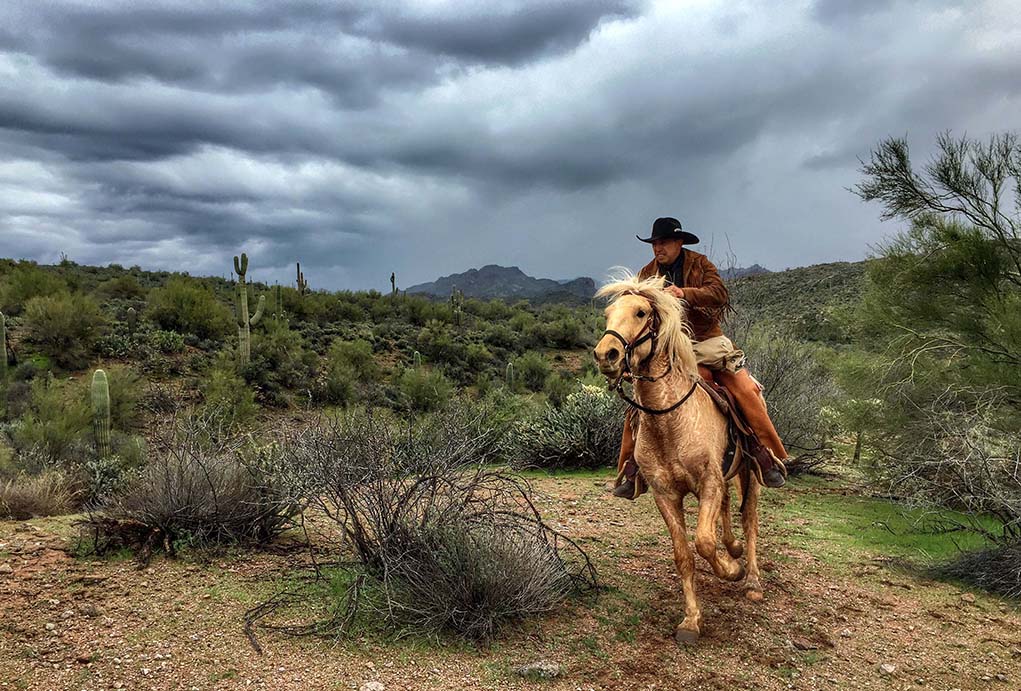 SCOTTSDALE —The City of Scottsdale brings together the best of Old West traditions and new West style by introducing a host of Western-themed events in and around the City in the days preceding the 64th Annual Scottsdale Parada del Sol Parade and Trail's End Festival on February 11.
February 4-February 11 has been officially proclaimed Western Week by the City of Scottsdale, and is set to include an array of signature festivities throughout the week, inspired by the indigenous cultures and traditions of the Old West. Signature activities and entertainment include:
-Rhinestones, Rodeo and Retro Style: Vintage Glamour: On February 4, at 11:00 a.m. at the Museum of the West, the Cowgirls Historical Foundation showcases its members' stunning, private collection of vintage clothing from the likes of Rodeo Ben, Nathan Turk (aka "The Tailor to Hollywood"), Nudie Cohn (aka "Nudie the Rodeo Tailor," "Dior of the Sagebrush," and "The Original Rhinestone Cowboy"), and Manuel Cuevas. Each of these designers fused the influences of their native land with the emerging culture of the American West, creating spectacular costumes and couture in the process. The designers' elaborately embroidered, one-of-a-kind costumes were favored by celebrities ranging from Roy Rogers, Dale Evans and Glen Campbell to the Rolling Stones, Bob Dylan, Jim Morrison and the Beach Boys. Included with museum admission; free to museum members. For more: scottsdalemuseumwest.org
-Meet the Author: Robert Knott: In the theater of Western Spirit: Scottsdale's Museum of the West at 1:00 p.m. on February 7, the New York Times bestselling author, actor and producer will give a talk, then sign copies of his newest release, Robert B. Parker's Revelation. This event, free to the public with museum admission required for gallery access, is produced in collaboration with Poisoned Pen Bookstore. For more: scottsdalemuseumwest.org
-Marshall Trimble: Tombstone's Social Life (What Folks Did When They Weren't Gunfighting) February 8 at 1:00 p.m., at Western Spirit: Scottsdale's Museum of the West, Official State Historian Marshall Trimble shares his perspective on the social customs, cultural advancement and pastimes of the raucous and rowdy residents of Tombstone, the "Town Too Tough to Die." For more: scottsdalemuseumwest.orgGold Palette ArtWalk themed Western -Spirit: Thursday, February 9, from 6:30-9:30 p.m., this educational event features "Telling the Story" – a walking tour of the Old Town Arts District led by Arizona historian Melanie MacEachern and Scottsdale town historian Joan Fudala. Following this leisurely, informative stroll, ArtWalkers will conclude their tour at Western Spirit: Scottsdale's Museum of the West to learn more about the rich history of Western art. For more details, call Cyndy Carstens at 480-946-3217 or visit scottsdalegalleries.com.
-The Mail Arrives at Scottsdale's Museum of the West: At high noon on Friday, February 10, more than two dozen members of the Hashknife Pony Express conclude their 200-mile horseback trek in front of Western Spirit: Scottsdale's Museum of the West on Marshall Way, at the Passing the Legacy sculpture near the Marshall Way Bridge. The public is invited to witness the riders deliver 20,000 letters specially marked by the U.S. Postal Service in a tradition that dates back to 1958. Following is a brief ceremony, a Hashknife Boot Camp with activities for kids, and a free public meet and greet. For more: hashknifeponyexpress.com
-Old Town Farmers Market: Select the freshest product of the season and indigenous specialties of the West such as flowers, free-range beef and eggs, local cheeses, freshly baked artisan breads, jams and more on Saturday, February 11 from 8:00 a.m.-1:00 p.m. Located at 3806 N. Brown Avenue. For more: www.arizonacommunityfarmersmarkets.com
-Parada del Sol Parade & Trail's End Festival: As Western Week comes to a close, locals and visitors can look forward to the Parada del Sol Parade & Trail's End Festival on February 11. The parade runs from 10:00 a.m.-noon, embarking from Drinkwater Boulevard south down Scottsdale Road, turning east on Second Street and concluding heading north on Brown Avenue to Indian School Road. Parada President Wendy Springborn says, "For 64 years the Scottsdale Parada del Sol Committee of volunteers has coordinated this free parade of horse-drawn carriages, bands, wagons and stagecoaches. Mounted horse riders like the Maricopa County Sheriff's Posse, Hashknife Pony Express riders and Scottsdale Charros are just a fraction of the horse groups visitors will see."
– From noon-4:00p.m., the Trail's End Festival in Downtown Scottsdale features entertainment on three stages including western entertainers, Native American and Hispanic dancers, as well as a street full of activities at the Cowboy Kids zone, with cowboy games and cultural programming for the kids. Rockabilly, string and rock bands, as well as Aztec and Folklorico dancers are scheduled to perform, and the new Arizona Wine Garden featuring Arizona Stronghold award-winning wines is the perfect place to pony up to wet your whistle. For more: paradadelsolparade-trailsend.com.
Check later in the week for more information: www.scottsdalewesternweek.com.