CAVE CREEK – Maricopa County Sheriff's Office deputies responded to a 911 call on Jan. 14 on Fleming Springs Road when a nearby resident reported a woman screaming for help.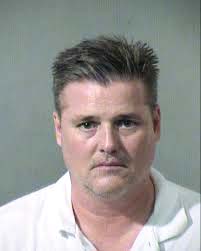 Initial reports indicate Robert Maynard Woehl, Jr., 50, of Surprise, lured his estranged wife to an abandoned house on Fleming Springs Road in Cave Creek under false pretences.
Once she arrived, Woehl handcuffed her and began beating her in the back yard of the property.
Woehl fled the property and headed northbound on Fleming Springs Road where he turned onto a driveway or road along a ridge line where his vehicle went off the cliff.
MCSO deputies searched the ground with the assistance of a helicopter in the air until they came upon the vehicle and Woehl.
Woehl was airlifted to the hospital with injuries from the accident and self-inflicted knife wounds, indicating he was attempting suicide.
His estranged wife was also transported to a hospital by ambulance.
Both of their conditions are unknown.
However, as soon as Woehl,is released from the hospital, he will immediately be taken into custody and booked on kidnapping and assault charges.
Woehl was indicted by a grand jury in September and is currently facing criminal charges in Maricopa County Superior Court for knowingly being in possession of a forged instrument, a class 4 felony.
His comprehensive pre-trial conference is currently scheduled for this Thursday, Jan. 19.