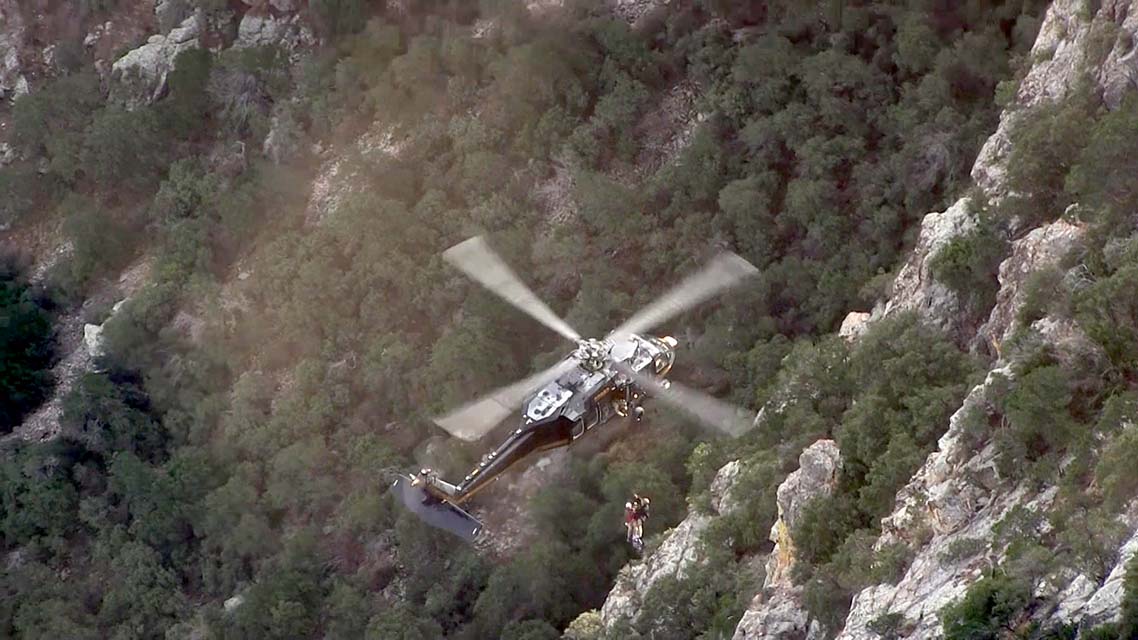 TUCSON – Tucson Sector Border Patrol agents, an air crew from Air and Marine Operations (AM0), and Arizona Department of Public Safety joined forces to rescue an illegal immigrant Tuesday morning who had fallen down a steep cliff near Baboquivari Peak, southwest of Three Points, Arizona.
A Tohono O'odham Police Department officer contacted agents at the Three Points Substation on Sunday night, stating that a
man in their custody said his traveling partner was left behind in the Baboquivari Mountains due to a broken ankle.
AMO launched an air crew initially but their search had to be delayed until early Monday. Meanwhile, the Border Patrol Search and Trauma Team (BORSTAR) was activated to assist.
By morning, agents had determined the subject's general location but other agents had to repel into the area from an AMO Blackhawk helicopter to continue searching on foot. Agents found the subject late Monday approximately 400 feet below a cliff's edge. Agents were unable to locate a safe approach on foot and decided that a hoist extraction was necessary due to the extreme terrain.
With daylight fading, agents established a command post nearby until a high-altitude aerial rescue could be launched the next day.
On Tuesday morning DPS used a helicopter to "heli-rappel" a trooper-paramedic to the subject's location to stabilize the man and prepare him for extraction. Afterwards BORSTAR, DPS and AMO personnel hoisted the injured man to safety and transported him to a local hospital for treatment of non-life threatening injuries.
Agents later identified the man as a 42-year-old Honduran national illegally present in the U.S. Once released from the hospital, he will be processed for immigration removal proceedings.
As an "All Threats Agency", the U.S. Border Patrol is capable of immediately responding to and dealing with any threat or emergency along our nation's borders. CBP welcomes assistance from the community. Citizens can report suspicious activity to the Border Patrol by calling 1-877-872-7435 toll free. All calls will be answered and remain anonymous.