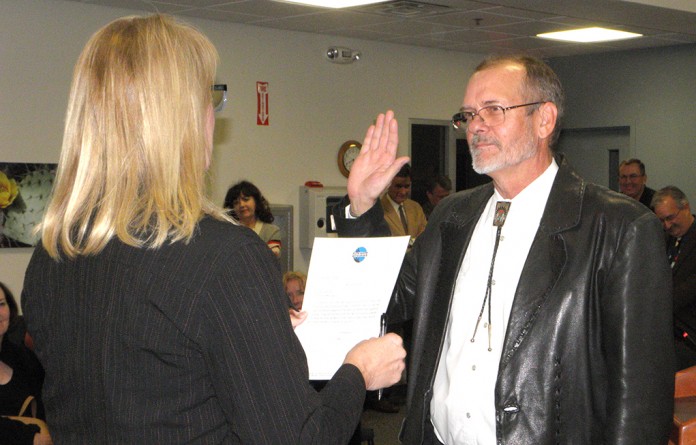 CAVE CREEK – Town Clerk Carrie Dyrek administered the oath of office to each of the newly seated council members: Susan Clancy, Mary Elrod, Thomas McGuire, David Smith, Ron Sova and Eileen Wright, and Mayor Ernie Bunch at 5:30 p.m. on Monday so they could convene into executive session.
When the public meeting convened at 7 p.m., Maricopa County Sheriff's Office Capt. Kip Rustenburg spoke during Call to the Public to update citizens on the status of MCSO Sgt. Nick Shrey and his wife Elizabeth, who were hit by a van while crossing the street in front of Harold's just after midnight on Thanksgiving morning.
She said Nick was out of the hospital and using a walker but, unfortunately, his wife, who was more severely injured, is still in the hospital.
Rustenburg said it was going to be a long haul for both, who have two young children, before they will be able to fully recover from their injuries.
She said there is a GoFundMe site set up at https://www.gofundme.com/schrey-family-relief-fund?ssid=830661280&pos=3 for anyone interested in contributing to the Shreys' expenses.
Wright asked that an item on the consent agenda canceling the Dec. 19 council meeting be pulled to discuss separately.
Wright didn't believe the meeting should be canceled and made a motion to hold a Dec. 19 council meeting. However, her motion failed due to a lack of a second.
Council held its election of vice mayor by a secret ballot dropped into a bowl and then read by Dyrek.
The first round yielded three votes each for McGuire and Sova and one for Smith.
A runoff second round was held, yielding a win for Sova, who almost took his oath of office as a Carefree Councilman.
Council also used a secret ballot to appoint three people to the vacancies on the planning commission.
During public comment, Cheryl Carmitchel recommended council appoint Ed Leazenby, Bob Voris and Reg Monachino.
Katya Kincel made the same recommendation, stating Paul Eelkema was already on numerous commissions and the town needed diversity.
Monachino was appointed to the remaining one-year left of Smith's term, while Voris and Eelkema were each appointed to three-year terms.
Finance Director Robert Weddigen and a representative from Henry & Horne, LLP, the town's audit firm, presented a summary of the town's annual audit.
They stated there were no findings, no deficiencies or material weaknesses or any instances of non-compliance.
Council voted unanimously to accept the audit.
Town Manager Peter Jankowski brought back the conceptual plan to lease lots on the Water Ranch site for landscaping businesses.
Jankowski stated he was bringing the idea forward again so council could give him direction as to whether or not he should continue to pursue the concept.
He stated it would require a zoning change and was being considered as a place for Foothills Granite to relocate.
Smith asked if the property had been appraised or if he know what the lease would be.
Jankowski said it had not been appraised and the leases would be in the $500 to $1,200 range.
Town Attorney Bill Sims said this would be something that would still be required to go through the review process by the planning commission.
Jankowski said he was seeking guidance from council as to whether it wished to pursue the matter. Otherwise he didn't wish to waste his or staff's time.
During public comment, Art Tamayne from Whispering Hills said they were made guarantees by the former town manager and mayor that nothing would be built on that property.
He also said the gravel yard is a noisy business and noted there were access issues.
Tamayne said the town seemed to be acting as a real estate agent for the granite yard and asked that council not move forward with it.
Tom Davenport, also from Whispering Hills, said Ted Bryda sent a letter to council in opposition and stated his subdivision was vehemently against the proposal.
Because the promises made to them were not in writing, Davenport said they will make sure they get everything else from the town in writing from here on out.
Sims reminded council they were only looking at a preliminary concept.
Clancy stated they didn't have enough information to make a decision without it having gone first to the planning commission for review.
Wright stated, "I think this concept is flawed."
Smith suggested the planning commission hold a public meeting so citizens could provide input, much like developers do when proposing projects.
Bunch said, "Promises were made. Promises were broken.
Council voted unanimously to send the conceptual plan to the planning commission for review.
Council also voted unanimously to go through its own procurement process for work on the Westside water line since the scope of work had changed and the price originally quoted by Markham had increased by approximately $20,000.
Sims told council they had the option of either asking the Cahava Springs Revitalization District of going through a new procurement process or the town doing it on its own.
Sova commented that the town might be able to get a lower bid than the original $63,000 bid from Markham.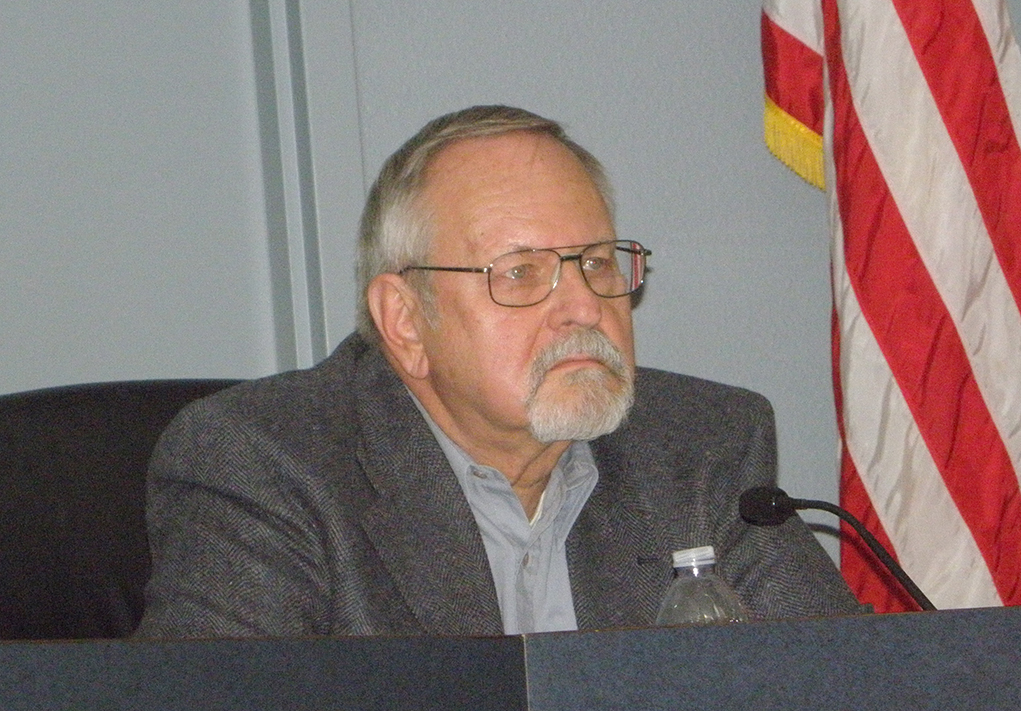 After hearing from a number of citizens in the Desert Hills Water Company service area who were previously told they could get water and had proceeded with building plans, council voted unanimously to refer the Desert Hills Water moratorium to the Water Advisory Committee to come up with a solution to bring to council.
Last, council was asked if it wished to appeal the board of adjustment's decision overturning the planning director's decision to deny Bill Basore's application to rebuild a pole barn, originally a legal non-conforming use, within the setback area.
Sims explained if the town wished to pursue challenging the board's decision, the town would have to pay lawyers to sue the board of adjustment while the risk pool would represent the board of adjustment, less the deductable.
Clancy's motion to not appeal the board's decision and instead review the town's ordinance passed unanimously.