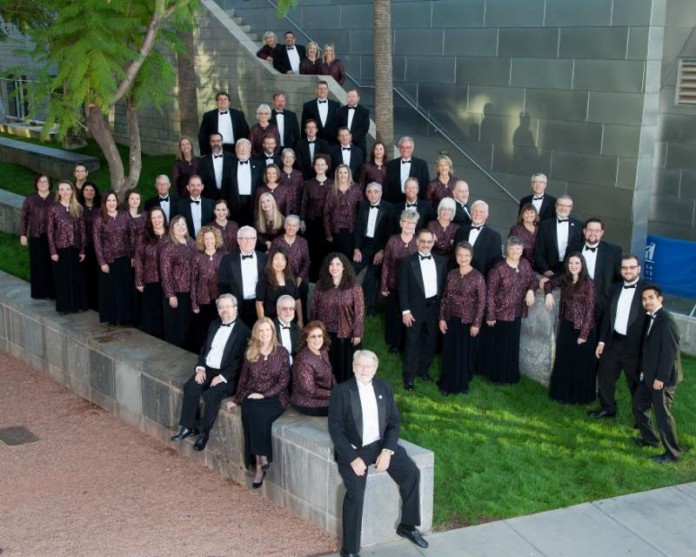 MESA, AZ – At this most beautiful season of the year, music connects us to feelings of hope and joy and an appreciation of the miraculous.  The Chorale translates those feelings into song accompanied by brass, percussion, and two of the mightiest organs in the Valley.  Continuing with our exploration of the music of Ireland and the British Isles, we sing many pieces steeped in this tradition.  Musical styles range from medieval to contemporary, offering lush melodies – familiar and new, with beautiful lyrics presented by a rich blend of 60 voices.
Desert Voices of Christmas performances will take place Saturday, December 10, 2016 at 7:30 P.M. at First United Methodist Church, 15 E. First Avenue, Mesa and Sunday, December 11 2016 at 3:00 P.M. at La Casa De Cristo Lutheran Church, 6300 E. Bell Road, Scottsdale.  Tickets are now on sale and may be purchased online at SonoranDesertChorale.org or by calling 480-305-4538.
Advance single ticket prices are $18 for adults/$15 for seniors, students and groups of 10 or more.  Ticket prices at the door are $20 for adults and $18 for seniors/students.
Welcome in your holidays with a taste of Ireland in the arrangements of Michael McGlynn of Riverdance fame.  Hear The Wexford Carol in a spare but lovely approach that highlights this well-known melody.  Cecelia McDowall's Gaude et laetare shines with a lively organ accompaniment and strong rhythmic drive to create an instantly celebratory mood.  Stroope's American Christmas features O, Come All Ye Faithful, Lord of the Dance, I Wonder as I Wander, and more to close the first half.
After intermission, the women of the Chorale sing Bob Chilcott's setting of verses from Henry Wadsworth Longfellow's Christmas poem telling the story of the three kings' journey to Bethlehem.  A sense of travel is created by the stately 6/8 time signature, and syncopations bring an air of excitement and wonder to the tale.
All voices sing Michael McGlynn's Christmas Memories, a piece that will transport you to that special time of "coming home for Christmas Day to our sweetest memories."  A setting of the poem, little tree, by e.e. cummings is bright, modern, and charming.  Again the Chorale combines with organ, brass, and percussion to perform Randol Alan Bass' Christmas Flourish as we wind up the concert in grand style.
Celebrate the wonderful music of this beautiful season and join the Chorale in our always anticipated audience sing-a-long as we bring you Desert Voices of Christmas.