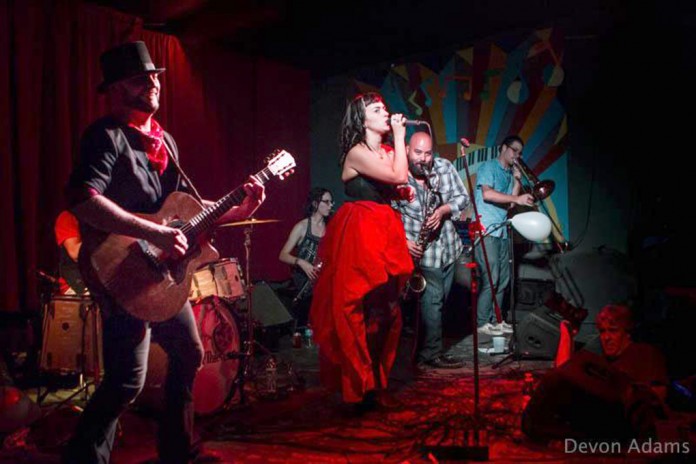 PHOENIX – MusicaNova Orchestra presents local favorite, the Dry River Yacht Club, in a free community concert on Sunday, November 20 from 3 – 4:30 p.m. at Scottsdale Presbyterian Church, 3421 N. Hayden Road in Scottsdale.  
Admission is free, and donations to support the series will be accepted. Visit www.musicanovaaz.com for more information.
The Dry River Yacht Club (DRYC) was born when a group of friends met up in a Tempe living room in the fall of 2007, bringing together a unique assortment of musical references from electronic dance music to rock to musical theatre to classical
Their high energy execution of every number – DRYC plays almost exclusively original material – creates a sound that's eclectic and entirely their own. DRYC songwriting is a collaborative effort incorporating every member's personal style, then building and refining each song until it's ready to share with the world.  
Members are professional musicians who actively gig and play with other bands and orchestras around town, as well as work as a mortgage broker, a research analyst, and a school teacher during the day.
The group has released two EPs and two full-length albums, including their most recent El Tigre (2014). DRYC music is available from CD Baby and for streaming on iTunes, SoundCloud, and Spotify.
DRYC has appeared with acts including Wiz Khalifa, Capital Cities, and the Flaming Lips, as well as tours around the west and southwest and a 2014 showcase at SXSW (the fabled South-by-Southwest culture festival) in Austin, Texas. Currently Arizona-focused, they headline their own shows at local venues and feature at local festivals such as Viva PHX, Flagstaff's Cornucopia Fall Festival, and Spark! the Mesa Festival of Creativity.