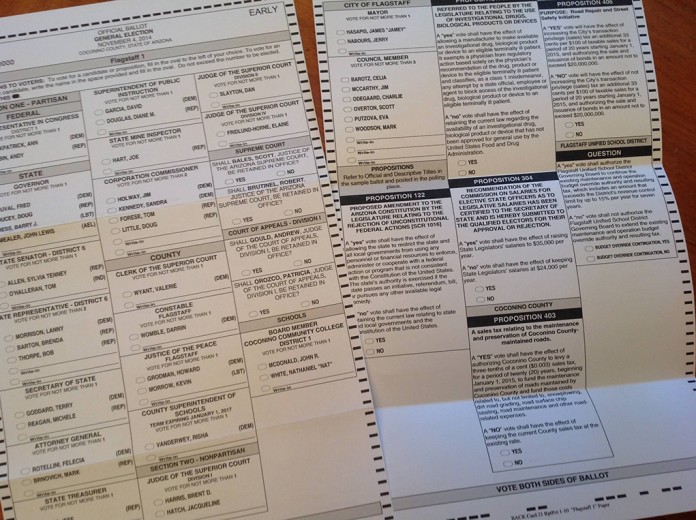 PHOENIX – Whether one believes marijuana should be legalized or not, it would behoove voters to read the 20 page initiative for Prop. 205 titled the "Regulation and Taxation of Marijuana Act."
The initiative is sponsored by the Marijuana Policy Project, a national 501(c)(4) nonprofit organization based in Washington, D.C. and is being promoted in Arizona as a "campaign to regulate marijuana like alcohol."
However, the language of the bill doesn't actually do that. In fact, the violation for a minor in possession of marijuana is considered a petty offense, much like being caught with possession of cigarettes.
The penalties for alcohol are far more severe.
The bill creates a new level of bureaucracy by establishing a Department of Marijuana Licenses and Control, along with a slew of new regulations regarding cultivation, manufacturing, testing, transportation and sale.
The 15 percent tax it will impose on retail marijuana sales will most likely do little to deter illegal marijuana sales, as has been proven to be the case in Colorado and other states where recreational marijuana has been legalized.
Prop. 206 will increase minimum wage from its current $8.05 an hour to $10 in 2017 and then incrementally to $12 by 2020 and require employers to provide paid sick time to employees, including those working part time.
Since the passage of Prop. 202 in 2006, Arizona's minimum wage is tied to the cost-of-living and is expected to increase to $8.15 in 2017.
The federal minimum wage is currently $7.25 an hour.
Voters in Flagstaff, Ariz. will be voting to increase the minimum wage to $15 an hour.
Many small businesses will not be able to absorb the increased costs of not only a hike in the minimum wage for entry-level positions but the associated increase in payroll taxes, unemployment insurance, Workers' Compensation and the like.
That alone will eliminate jobs and possibly put some small businesses out of business.
Mandatory sick pay will add to the destruction of jobs for those who need them the most.
The bill can do only one of two things, eliminate jobs or increase costs for goods and services. Perhaps both.
The bill is supported by the Arizona Democratic Party and numerous leftist and Hispanic organizations, along with a number of state and federal Democrat elected officials.
The Arizona Republican Party recommends a No vote on both propositions.
Visit the Arizona Secretary of State's website for more information and to read the full text of both initiatives.
The Arizona Republican Party has also produced a 2016 Voter Guide for Maricopa County that may be found here with its recommendations for various elected offices, including the Central Arizona Project, Corporation Commission and Community College Board.
On the Voter Information page, follow the link at the bottom of the page where it says, "If you're in Maricopa County be sure to view this voter guide."
As far as judges go, only voters can remove judges and most people have little knowledge about their performance and who should be removed.
Supreme Court Justice Ann A. Scott Timmer has received excellent ratings from attorneys, her peers and Superior Court judges surveyed.
For Maricopa County Superior Court, the Judicial Performance Commission has determined only one judge does not meet judicial performance standards – Jo Lynn Gentry – with 17 of the 32 commissioners voting against her.
Sonoran News called her out for non-retention back in 2008 when she went by the name Jo Lynn Gentry-Lewis and only six commissioners found she didn't meet judicial performance standards.
One commissioner found Jeanne M. Garcia did not meet standards.
Back in 2008, four of the then 28 commissioners found Robert Oberbillig did not meet standards.
Sonoran News has covered cases in his court and agrees he shouldn't have been retained then or be retained now.
Jose Padilla made their list in 2008 with three out of 28 commissioners claiming he didn't meet judicial performance standards.
To review the survey ratings for each of the judges on the ballot, visit the Judicial Performance Review site and click on the name of the judge.