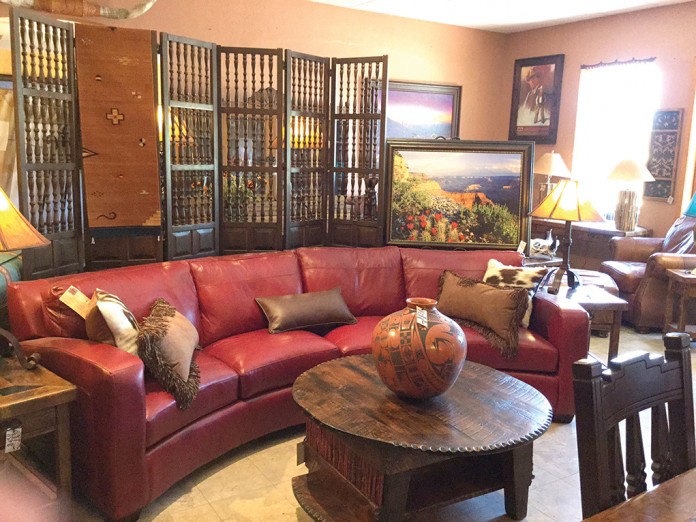 CAVE CREEK – With a name like Out West Showroom, people tend to assume the store carries only western/cowboy-style furnishings. What you'll find is primarily hacienda or southwestern décor, however, the store is ever-evolving. "We follow the trends," offered Zack Sexton, who along with his parents, Beverly and Robert Sexton, own and operate Out West.
With the holidays upcoming and year's end looming, the Sextons are preparing for new inventory, so take advantage of discounted merchandise from $50 to $500 off! "We have a great deal on artwork right now," Zack shared. "Normally pictures run $398 and we have them marked down to $199."
What's coming in new for the season is a lot of contemporary styles. Gray tones are all the rage, so the Sextons found a chic gray sofa. Of course, they still carry the popular tans and browns, often adorned with nailhead trim.
Zack said they are doing a lot of custom dining tables in solid alder and reclaimed wood. Keep in mind, Out West specializes in one-of-a-kind pieces and can typically craft anything in their showroom to meet their neighbors' needs. Of course, many clients fall in love with what's on the floor when it comes to the hand-carved reclaimed wormwood and leather beds. Quantities are limited to about 15 or 16 pieces a year, so if you want a showpiece in your bedroom or guestroom, visit Out West before they are sold out!
"We have everything from rustic to contemporary to traditional. Our lines are classic and clean and fit into any home. We always have new leather coming in and right now we are offering up to $600 off these pieces. You can't beat our prices, and we're always willing to go the extra mile for our customers," Zack added.
See how the folks at Out West Showroom can transform your house into a model home by visiting 38252 W. Jacqueline Dr. The Sextons offer complementary design advice and can help furnish a room or whole home. Call 480-575-8000 for details.