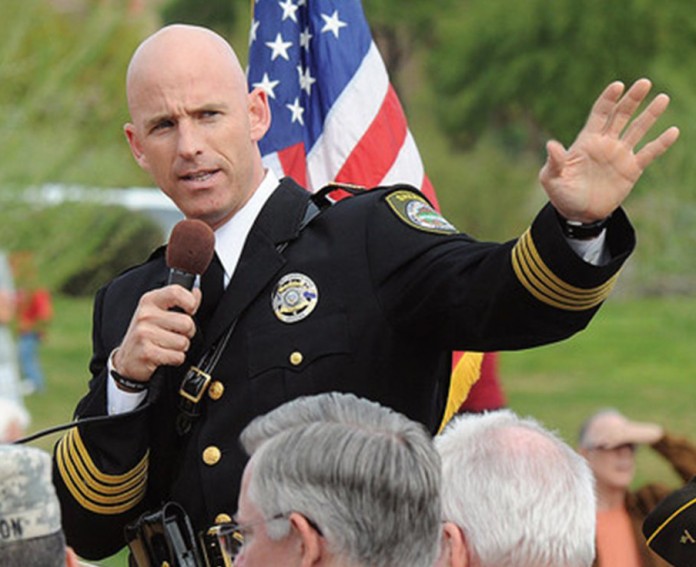 FLAGSTAFF – Sheriff Paul Babeu, Republican nominee for Congress in Arizona's first Congressional District, announced his support for immediate private health care for veterans instead of waiting for the VA.  Sheriff Babeu announced his plans this morning in front of the Flagstaff Community Based Outpatient Clinic.
Sheriff Paul Babeu stated, "The VA continues to fail our veterans. Veterans should be able to see a doctor in their own community without having to travel to the VA or wait months or a year for an appointment. The Veteran's Choice card is not enough, we need immediate reform allowing Veterans access to private doctors and private hospitals."
Babeu, a 20 year Army veteran himself, says the Veteran's Choice card reforms have failed to correct the backlog and access to care.  Currently, the program allows veterans who must wait longer than thirty days for an appointment or who live more than forty miles away from a VA facility to seek care within their communities.
Veterans' care came into the spotlight in 2015 when reports surfaced when many veterans died waiting for care in the VA health system.  Arizonans have seen the issues of the VA health system first-hand at the Carl T. Hayden V.A..  The medical center has had seven directors in the past several years- yet as many as 25% of scheduled appointments get cancelled without notice.
There are several similar proposals under consideration in congress, such as The Veterans Freedom of Healthcare Act that would allow immediate private health care to veterans and has the support of Republicans, Democrats, veterans' organizations and health care providers.
Babeu is a veteran of the Iraq War and spent 20 years in the Army National Guard, rising to the rank of major. In addition, Babeu commanded 700 troops on the Arizona-Mexico border as part of Operation Jump Start, which helped reduce illegal immigration and drug smuggling by 94 percent in the Yuma Sector. He was first elected Pinal County Sheriff in 2008 and won reelection in 2012.