CAVE CREEK – While 84 million people were glued to their television sets to watch the first presidential debate on Aug. 26, council held a special work study session to provide Town Manager Peter Jankowski with direction regarding the allocation of water resources outside the town's corporate limits.
Jankowski provided the breakdown of the two water systems, Cave Creek Water System (CCWS) and Desert Hills Water System (DHWS), as well as a breakdown of the residential and commercial water utility customers in Cave Creek (2,089), Desert Hills (1,703) and Carefree (524).
The town has a Central Arizona Project (CAP) water allocation of 2,606 acre feet per year, of which it orders 2,100 acre feet.
CCWS is supplied by 100 percent CAP water and DHWS, while it has no CAP allocation, the town provides DHWS approximately 402 acre feet per year.
When the town applied for additional CAP allocations, it designated, but never awarded, 386 acre feet for DHWS.
Currently, DHWS's water supply is 55 percent CAP and 45 percent wells.
Jankowski provided council with four separate scenarios in the DHWS for which he was seeking direction from council. They included an issue of multiple meters on a single lot; A developer request to trade a well on his subdivision in the DHWS in exchange for hooking up to DHWS; subdivisions requiring a 100-year assured water supply in the town consist of three or more units, while in the DHWS the county considers a subdivision five or more units; and whether the town wants to authorize reimbursement to homeowners for damage to their landscaping and pressure reduction valves due to increased pressure in the water lines following the repair of a section of the town's water line that was in very poor condition.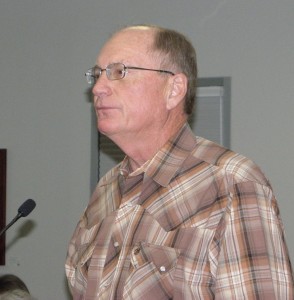 Call to the Public, Robert Morris emphasized the town has no legal obligation to support growth in the Desert Hills area.
Kerry Smith provided council members with an analysis he completed and stated while the town's figures account for the current water customers, it doesn't take into account the commitments it has already made, such as Cahava Springs, Hidden Rock, possibly either 48 or 30 units at Windmill Village, Meritage Homes might come back with another proposal and talk of a potential new hotel in the town core.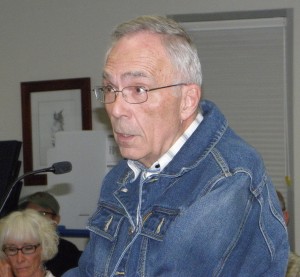 Jankowski interrupted to say they were starting the meeting at the end by allowing citizens to discuss the agenda item before council rather than Call to the Public being a means to raise issues not on the agenda.
Before ending Call to the Public, Water Advisory Committee (WAC) Chair Tony Geiger said he'd like to make a statement and would reserve his other comments for later discussion.
Geiger stated, "It's very disappointing that the WAC has been left out of the loop in preparation for this discussion. We were never asked to participate, to evaluate or offer any input."
He said this was also not the first time they've been ignored on water issues and stated, "I don't understand why we're doing these things backwards."
Jankowski stated he was very concerned about the amount of water the town was sending to DHWS and, based on the four scenarios he presented, asked, "What direction does council want to go down?"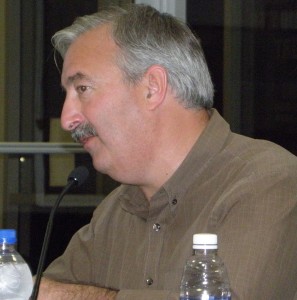 Noting DHWS has no CAP allocation of its own, Jankowski said, "Water is crucial to the growth of Cave Creek and I just want guidance."
Town Attorney Bill Sims advised council it has no obligation to provide water to out-of-town customers. However, he stated, "Once you start, you can't stop."
Sims said the town could charge those customers more but only if it costs the town more to serve customers outside the town's corporate limits.
Seeking clarification, Vice Mayor Steve LaMar asked if that meant they have to serve everyone in Desert Hills that requests service or just continue to serve those who are already customers.
Sims replied, "The later."
LaMar asked if there was an operational downside if the town discontinued further expansion in Desert Hills.
Councilman Ernie Bunch questioned how they could charge those customers more.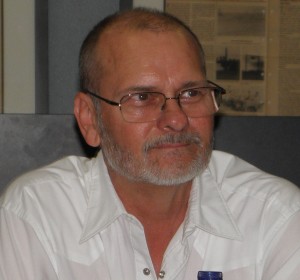 Sims stated the town would have to document all the costs associated with the higher cost of providing them service.
As Bunch made a few more queries, there was discussion of Arizona's law that allows developers to obtain a 100-year assured water supply for a subdivision by replenishing water within the active management area, even though the water being used is not connected.
Sims advised council there were a handful of municipalities, including Cottonwood, which require developers to not only have a 100-year assured water supply for a subdivision, but must also bring their own water supply.
Council would need to pass an ordinance to impose that as a requirement.
In the interim, council directed Jankowski to not allow any more new customers in the DHWS.