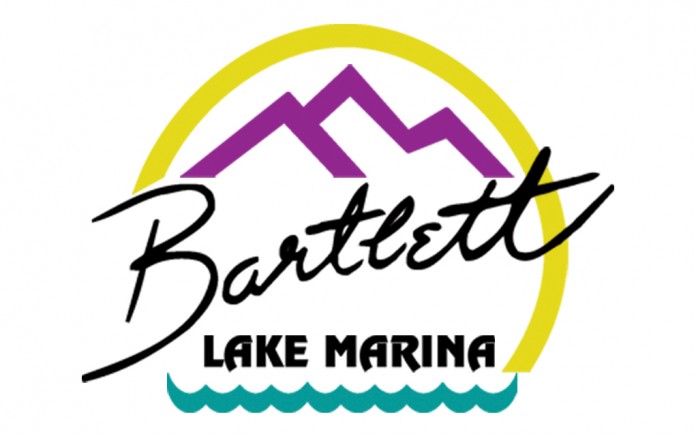 RIO VERDE – It's the basis for many a dream – "No money, no experience, no nothing," explained Bryan Church, co-founder/owner, along with brother, Eric, of Bartlett Lake Marina. It was the mid-1980s when the Church brothers visited the lightly-used Bartlett Lake (located at the end of seven miles unpaved road). On his Smith-Corona, Bryan typed a letter to the Forest Service: "We'd like to build a marina," it essentially said. They got a yes, but in the meantime, "we were learning how to do things." Construction began in 1993. Bryan added with a chuckle, "It's basically been a 20-year construction project."
If you've not been to Bartlett Lake (roughly 11 miles long), it's worth a trip. In addition to hiking, camping, fishing, yacht parties and paddle boarding, a unique feature Bartlett Lake Marina offers is its boat club. It's an affordable way to have access to one of 17 ski and/or pontoon boats. (Don't fret if you don't have experience, the folks at the marina offer training.) Currently about 100 members take advantage of this wonderful opportunity, so if you've ever wanted to be captain of your own ship, sign up! "It's low cost, no hassle," Bryan assured.
Who isn't ravenous after a day at the lake? Three months ago, the Churches opened the Last Stop Bartlett Lake Grill. (It's the Last Stop because if you keep going you drive into the lake! Bryan said.) The 120-seat American grill offers sandwiches and wings, milkshakes and a full bar. The hands-down fave? Burgers. Sit out on the patio, enjoy the view, fill up on food.
Because the Church family (Bryan and Eric's 84-year-old mom works at Bartlett Lake Marina along with nephews and longtime employees who are like family) has been so blessed, they like to give back with Day on the Lake events. Barrow Neurological Institute sponsors one outing for those with spinal injuries. In Oct, Wake the World brings foster and underprivileged kids out in the water for a splashing good time. These charity events come naturally to a place known as the "Mayberry of Marinas."
Bartlett Lake Marina is located at 20808 E Bartlett Dam Rd. Visit bartlettlake.com or call 602-316-3378 / 480-221-0503 for details.