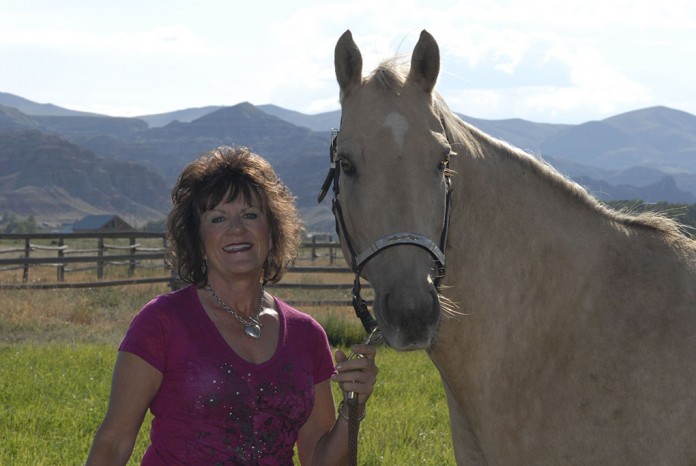 CAVE CREEK – Visitors the 13th Annual Cave Creek Wild West Days can hear tales of the Old West and favorite songs from a fourth-generation cowgirl, Jan Marrou. Best known as 'The Cowboy Sweetheart,' local resident Marrou has built a following of fans that enjoy hearing her colorful stories and admire her soulful voice.
Coordinated by the Cave Creek Merchants & Events Association (CCMEA), Wild West Days takes place throughout town from Wed., Nov. 2 through Sun., Nov. 6. Marrou and her beautiful Palomino horse, Goldie, will help open Friday night's "Battle of the Bars" event at The Buffalo Chip, 6823 E Cave Creek Rd, in Cave Creek. The talented performer will welcome guests and sing the national anthem prior to the Wild West Days bull riding competition featuring teams from The Buffalo Chip, Harold's Corral, Hideaway/Roadhouse, Frontier Town/Smokehouse, Peaks and Valleys, and possible others.
On Sat., Nov. 5, Marrou and Goldie will participate in the Wild West Days parade, which starts at 9 a.m. on the west side of town and is shaping up to be one of the biggest parades in the event's history.
Leslie Jensen, the event's parade coordinator, said CCMEA is excited to feature Marrou as one of the event's highlighted performers. "People are drawn to Jan because she's an authentic cowgirl who loves to share the cowboy way of life with her audiences," Jensen said. "Whether you're familiar with ranching or you moved here from a big city, you'll be fascinated by her tales and entertained by her diverse range of songs."
After the parade, merchants will host fun events such as bathtub races and a pie-eating contest at Frontier Town, pig races and Cow Pie Bingo at Harold's Corral, mutton bustin' at the Buffalo Chip and much more. Later that afternoon, The Buffalo Chip will host Marrou, who will perform 'Legends of the West' from 4 – 6 p.m.
"I'll be sharing tales of the Old West through songs about cowboys and cowgirls…some true, some close enough," Marrou said, adding that one of the songs she'll sing is about her great grandparents, who were settlers in the famous Outlaw Trails, where the Colorado, Utah and Wyoming borders meet. "I sing all of the classics and will include some popular songs for audience participation as well," she said.
Marrou grew up in southern California and spent her summers in Dubois, Wyoming, where her family owned a horse motel.
"My Daddy was very instrumental in teaching me how to harmonize and yodel. I have great memories of us singing together in the car during our trips to and from Wyoming," she said.
As a young girl, she would clean the motel cabins in the morning and then guide trail rides in the afternoon. She also has fond memories of helping her uncle lead groups on pack horses on fishing trips and other expeditions.
She also fell deeply in love in Wyoming – with horses. "I absolutely love horses," she said. "They are so majestic, inspirational and intuitive, and I'll do anything I can to be with them."
In addition to performing at Cave Creek Wild West Days, Marrou often performs at other big events, and she specializes in organized trail rides, such as her eight years with the Wickenburg Hospital Ride. She also enjoys giving her time to assisted and independent living facilities. Her repertoire includes classic country, western, classic rock, Big Band, and she also performs a Patsy Cline tribute show.
Admission to Cave Creek Wild West Days is free. For more information, email WildWestDays2016@gmail.com, call (480) 437-1110, or visit WildWestDaysCaveCreek.com.