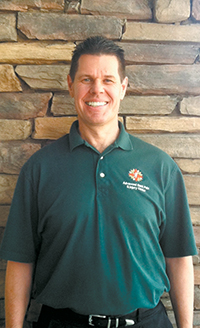 CAREFREE – There's a whole realm of wellness at the Carefree Acupuncture and Chiropractic Center. Of course, Dr. Jay McFarlane is a skilled practitioner of acupuncture and chiropractic care, but he added, "Many people don't realize how comprehensive we tend to be."
For instance, feet are the foundation of the body. As we age, feet break down. When the feet are in a good position, the body aligns accordingly and we feel great and can be more efficient. If you have aches and pains, customized orthotics may be the answer. McFarlane said at his 11030 N Tatum Blvd office he has a computer with 4,100 sensors that measure and pinpoint deficits so the made-for-you orthotics will actually have you jumping for joy because your feet feel so energized! Unlike store-bought Dr. Scholl's, these orthotics can also be sports-specific (golf, running, even hockey).
"We've been doing a lot more in nutrition," McFarlane said. Not only how and what to eat well, but cleanses are offered as another step to optimal health.
If you have bloodwork from your PC physician, there's yet another tool at Carefree Acupuncture. With this specialized software for bloodwork, which shows optimal ranges, McFarlane can get to the root of any issue.
He has in his arsenal a cold, low-level laser that stimulates cells at the cellular level and speeds up healing. McFarlane truly is a health coach, who, incidentally, will additionally advise on ergonomics. Calling all office workers!
"We have had great results getting people out of pain," McFarlane commented. "People go through life at certain levels, and they don't always realize there are other levels to live better."
He explained how MS or Parkinson's may not be curable, but at Carefree Acupuncture and Chiropractic they can help manage any maladies. "We'll work as a team to get the best results." They listen, they care and patients can attest to the fact they are effective.
Call for a consult at 480-488-9647 at the 7518 E Elbow Bend office on Tues/Thurs. Phone 602-494-3037 for the aforementioned N. Tatum Blvd office.