PHOENIX – The Aug. 30 primary election has finally rendered Desert Ridge Justice of the Peace Clancy Jayne unemployed.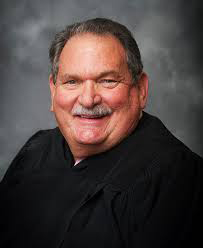 With 45 percent of the vote in a three-way race, Cathy Riggs, a former police officer, police academy instructor and law school graduate, left her opponents, Jeff Schapira, who came in a distant second with 29 percent and Jayne with 25 percent, in the dust.
Since he was originally elected in 2008 and then reelected in 2012, Jayne has been sanctioned by the Arizona Commission on Judicial Conduct five times.
And despite running against opponents in the past who were imminently more qualified, Jayne, with his name emblazoned on the side of a colossal semi-trailer parked alongside the northbound side of I-17, and a frequent participant in local parades, banked on name recognition to win.
It didn't work this time.
There aren't too many qualifications to run for justice of the peace in Arizona. One must be at least 18, have Arizona residency, be a registered voter and be literate in English.
It's not clear how Jayne proved literacy. When he served in the legislature over a decade ago, Jayne had trouble spelling and forming coherent sentences.
In Maricopa County, the salary for justice of the peace is over $100,000 plus benefits.
After the Yellow Sheet Report, the political tip sheet arm of Arizona Capitol Times, reported Gov. Doug Ducey endorsed Riggs, Jayne, who claims to have known Ducey for 30 years, went into a tirade and was quoted calling Ducey a "S.O.B."
Referring to Ducey as his "gofer," Jayne told the Yellow Sheet, "When he drove a beer truck for Hensley and Company, he was running around doing gofer work for me when I was president of Gilbert Days. He was having to go around and do gofer work for me because I got Jim Hensley to be our beer sponsor for the rodeo."
Despite Riggs being married to Frank Riggs, who was one of Ducey's opponents in the 2014 primary, Ducey called her "smart, trustworthy and principled."
Since there is no Democrat running in the Desert Ridge JP race Riggs is considered elected to the post.