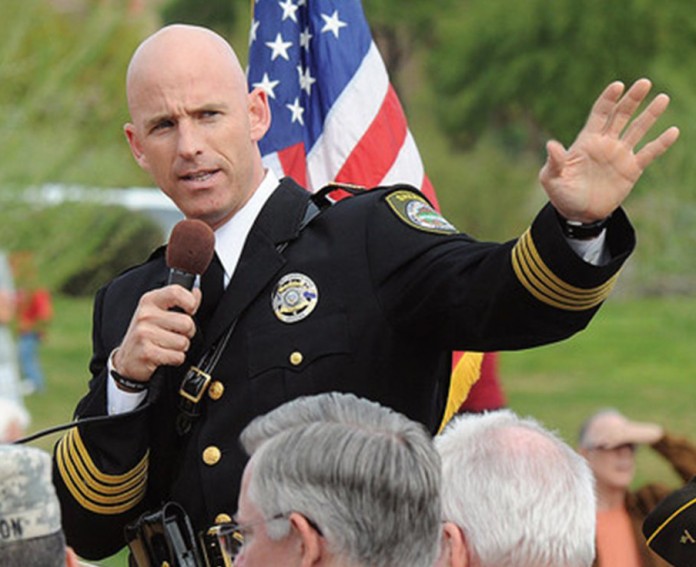 CASA GRANDE – Pinal County Sheriff Paul Babeu has announced his support of the Navajo Nation in its lawsuit against the U.S. Environmental Protection Agency (EPA) over the Gold King Mine spill.
In August 2015, EPA officials breached the Gold King Mine, located in Silverton, Colo., which released 3 million tons of toxic waste into the Animas River. The mustard-colored chemicals eventually flowed into the San Juan River, which runs around and through the Navajo Nation impacting countless residents, farmers and ranchers.
The Navajo Nation still faces the repercussions from the release of these harmful chemicals," Babeu said. "The EPA has not treated the Navajo Nation fairly for an unjust act and does significant harm to a people that treasures the precious natural resources of land and water. Further, the EPA has never been transparent and has been uncooperative with the Navajo Nation government."
The Navajo Nation filed a civil lawsuit today in federal court. Tribal officials said the Nation is suing the EPA for the catastrophic damage the spill caused many of its residents and for the constant mishandling of the Gold King Mine disaster.
Since the spill, Navajo Nation residents continue to suffer from economic and environmental damages. The spill has threatened many Navajos' way of life as many are farmers and ranchers that rely on the San Juan River.
Babeu, running for the open seat in Arizona's Congressional District 1, said one of his top priorities after being sworn in is to hold the EPA accountable for this man-made disaster.
"The EPA caused this disaster and those responsible should be held accountable for the damage they caused," Babeu said.
Babeu supporter and member of the Navajo Nation, Arizona State Sen. Carlyle Begay, who represents eight tribal communities including the Navajo Nation, said the Navajo people are paying a significant and unjust price for this disaster.
"The river that runs through the nation is a way of life for Navajo people," said Begay. "The addition of high levels of arsenic and mercury hurts our communities' ability to farm, raise livestock and now face the uncertainty of the health of the San Juan River watershed."
Babeu is a veteran of the Iraq War and spent 20 years in the Army National Guard, rising to the rank of major. In addition, Babeu commanded 700 troops on the Arizona-Mexico border as part of Operation Jump Start, which helped reduce illegal immigration and drug smuggling by 94 percent in the Yuma Sector. He was first elected Pinal County Sheriff in 2008 and won reelection in 2012.