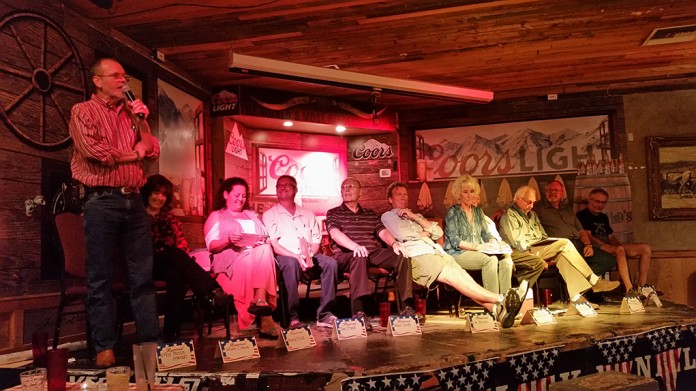 CAVE CREEK – Although Janelle Smith-Haff showed up at the forum at the Roadhouse, she chose not to participate, while Anna Marsolo has declined to attend any forums, making it appear as though Bunch is really the only candidate running for mayor.
The forum at Harold's on Tues. was no exception as the third candidate forum with only Councilman Ernie Bunch, showing up for the mayoral contest.
All the council candidates were present except Councilman Thomas McGuire, who was out of town on a pre-planned vacation.
Steve Alley of the Cave Creekers Infamous Bulletin Board, which hosted the forum, introduced the candidates and local realtor Ron Roberts, who is also the Cave Creek Museum president, who moderated the forum.
The format was set up with four major categories and pre-determined questions in each category.
A question was drawn from the category bucket and then three candidates' names were drawn from another bucket to answer the question.
Three questions were drawn from each category, which included: 2009 Annexation and Pre-annexation Development Agreements; Water and Wastewater Treatment; Town financials and management; and Land Use Planning and Zoning.
Time was also given to other candidates who wished to weigh in the subject.
After the three randomly drawn questions were answered, they moved on to the next category.
At the end they also took some questions from the audience.
The first round of questions had to do with the annexation and development agreement with the state land department.
John Vannucci said, "The 4,000 acres [of open space] is nothing but a fraud on Cave Creek taxpayers."
Mary Elrod said she supported the annexation and stated mitigation banking could work.
Councilwoman Susan Clancy said she too supported the annexation and called mitigation banking to preserve 4,000 acres of open space "quite feasible."
Eileen Wright, who was removed from the planning commission by council last year, claimed what had been said was "untrue." She went on to say over 3,000 of the 4,000 acres were not developable and only a few hundred acres could be developed.
C.W. Jensen stated, "I don't see any benefit to this."
Reg Monachino, who was booted from council during last year's recall election, said he loves open space, Cave Creek is blessed with open space and noted Spur Cross Conservation Area, Cave Creek Regional Park and Tonto National Forest.
Monachino said he didn't believe it was prudent to spend any more money on open space but he supports mitigation banking if it "doesn't cost the town another nickel."
Bunch explained if the annexation agreement expires, in 12 years the land will revert back to its original one-home-per-acre zoning.
David Smith said while the annexation agreement is in place, the town has decision-making ability.
Jensen said the annexation agreement reminded him of a homicide case and then rambled on about five cats before stating, "It's not a good idea."
Ron Sova said the 4,000 acres should remain active, although he didn't think the town should purchase the land.
He said through mitigation banking the land can become part of the community at no cost to the community.
Jim O'Toole said the 4,000 acres are tied up but he sees no loss to the community by deannexing.
Wright claimed there was conflicting information and the agreement requires the land be purchased or it will revert back to its original zoning.
Paul Diefenderfer said the concept of mitigation banking is worth pursuing but he didn't have all the information.
Jensen reiterated he was against the preservation of open space and mocked the proposed mitigation bank by stating, "If someone tells you something is free …"
Katya Kincel asked the sitting council members if they were aware of a stipulation in the annexation agreement that they had to provide water.
Bunch explained developers must have a 100-year certified water supply, adding, "If they don't bring it, they don't develop."
Clancy agreed.
Smith said what Bunch stated was absolutely true.
Sova agreed with Bunch and said he can speak from his experience as a developer. He stated no one is going to purchase land if the infrastructure is not in place.
Candidates were asked, with only 600 residences hooked up to the wastewater treatment plant when will others get to connect.
Smith said any new developments should be required to hook up.
O'Toole said the wastewater plant was oversized and he didn't see any new connections coming unless a large development comes in.
Monachino said the plant was operating at only 40 percent capacity and the only way to remedy that is if a large subdivision comes in, which he opposes.
Jensen said, "Why are we still talking about these things. No one solves problems around here."
Candidates were asked how the town should respond when citizens' wells go dry.
Diefenderfer stated when something breaks the homeowner needs to fix it. He said it's no different than when they have to make repairs to a septic system or other such issues.
Wright said it depends what part of the town one lives in.
Clancy said council is currently addressing that issue.
She raised the issue of fire protection and said, "No one should ever have to see their house burn down."
Vannucci stated, "The town has determined it has other priorities."
Sova said the problem can be solved but it will cost money. He said the question is will residents pay for it or the town.
Bunch pointed out property on the west side (which is where wells have gone dry) is all metes and bounds, not part of a subdivision.
He said, "We will have a meeting tomorrow on this but there are a lot of legal ramifications."
Smith said the problem exists because the original Cahava development project went under.
Bob Morris, who serves on the water advisory committee and the town manager's rate study committee that was just authorized to put out RFPs for a rate study, asked if candidates agree with an increase in rates.
Bunch said he hadn't seen the study yet so he couldn't make an educated decision.
Elrod said she needed more information.
O'Toole stated, "Rates are too high as is," and claimed it was due to mismanagement.
Smith said he would agree if the rate study indicates there should be one.
Jensen stated, "We need to listen to the Water Advisory Committee more."
When asked their thoughts on keeping or selling the town's water assets, Wright said she was in favor of selling the Desert Hills Water utility and the wastewater plant.
Diefenderfer said he didn't have enough information and wanted to know what the deal would be if they were to sell as opposed to keeping them.
A woman said she was an 18-year resident and her water bill used to be $60 month but since the town bought the water company her bill is now over $200. She asked if they had any interest in selling it to a private company so it could be properly run and rates go back down.
Bunch explained the water company was 50 years old when the town purchased it and said in order to have rate increases Cave Creek Water Company would have had to make improvements.
He said, "That costs money."
When asked how they would minimize staff for efficiency, Bunch said the only employee council has any jurisdiction over is the town manager and it was the town manager's job to ensure the town runs efficiently.
Bunch said town staff is overworked and reiterated, "We cannot individually get rid of any employee."
Smith said they should initiate an employee management program.
Diefenderfer said it should be like a business where you put good people in place and turn them loose to do their jobs.
Jensen began by saying what hasn't gotten done over the last three years.
He said the town's slogan "Where the Wild West Lives" should have been painted on every town vehicle but that was never done.
He said, "The Green Committee – nothing done."
Jensen said he would eliminate the town marshal's office, claiming it has no rules or procedures.
O'Toole responded, "Elect a new council."
Wright accused the town of not following its ordinances and town code.
Jensen said, "We need a marketing director to get more people to the town and more events. We don't need a guy with 14 cars and an ambulance."
Wright said, "We got into debt by council. We need to get out."
Bunch said the water company is an asset to the town.
He said, "We have debt. We have to pay it and it won't be paid off in two years."
All were asked why they want the job.
Diefenderfer said when he sees something he wants to do he does it and stated, "I want to do good things for the town."
Sova said he was retired and has the time, adding, "I have no hidden agenda."
Jensen said, "Look at how you can get into people's wallets."
Elrod said she was dedicated because her family has 80 plus years in this town.
Jensen stated he didn't care if people vote for him and went on again about the town marshal's office and said he was just a code enforcement officer.
Bunch stated Town Marshal Adam Stein does about five different things for the town and pointed out he served 12 years with NYPD, handles traffic issues and stated, contrary to some claims, "The man is not making $250,000."