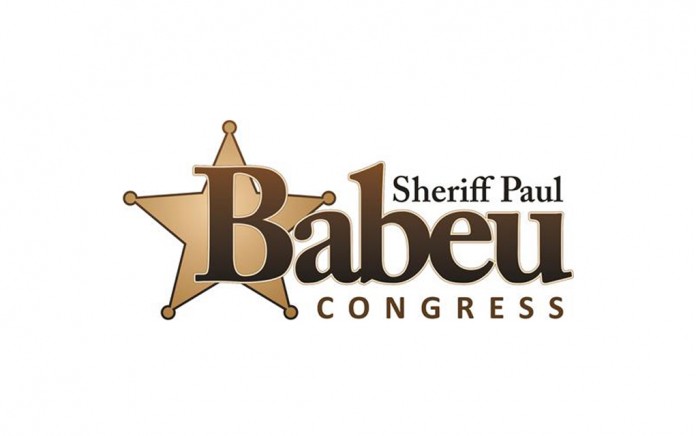 CASA GRANDE – Sheriff Paul Babeu today signed a Contract with voters in Congressional District 1, pledging to deliver on 15 top issues concerning Arizona and America.
The last time a contract with voters was hugely successful was in 1994, when Republicans led by Newt Gingrich regained control of Congress for the first time in 40 years and delivered on their promises outlined in their contract.
"America needs leaders who keep their word. As Sheriff and as an Army Officer, I've kept my promises and delivered results," Sheriff Paul Babeu said. "As a representative of the people, I sign this contract so voters know exactly what to expect from me. If I don't deliver, they can and should fire me."
Babeu continues to lead by double digits in every poll in the six-way GOP primary for the open congressional seat vacated by Rep. Ann Kirkpatrick, who decided to challenge Sen. John McCain.
"Voters have rightly grown cynical and don't trust politicians who often make promises they never intend to keep. I'm an oath keeper who has proven to keep his word as Sheriff and Army Officer," Babeu said. "I will do the same as a congressman and have signed a contract so voters can hold me to my word."
Babeu is a veteran of the Iraq War and spent 20 years in the Army National Guard, rising to the rank of major. In addition, Babeu commanded 700 troops on the Arizona-Mexico border as part of Operation Jump Start, which helped reduce illegal immigration and drug smuggling by 94 percent in the Yuma Sector. He was first elected Pinal County Sheriff in 2008 and won a landslide reelection in 2012.
CONTRACT WITH ARIZONA'S FIRST CONGRESSIONAL DISTRICT
WHEREAS, the public's confidence in government's ability to reform itself is nonexistent, and
WHEREAS, the choice of candidates for office leaves the majority of Americans in great doubt, and
WHEREAS, the American public deserves and is entitled to know what their elected officials will do once they are elected,
HEREBY BE IT RESOLVED that I, PAUL RAYMOND BABEU, as a military veteran and career law enforcement officer will keep my oath with regard to the following propositions, just as I've done as a locally elected Sheriff. When elected to the United States Congress, I WILL:
1) SUPPORT AND PUSH FOR A BALANCED BUDGET AMENDMENT.
2) FIGHT TO REBUILD OUR MILITARY SO THAT WE CAN LIVE IN PEACE.
3) RADICALLY IMPROVE CARE FOR OUR VETERANS.
4) CONTINUE MY FIGHT FOR A SECURE BORDER AND ENFORCEMENT OF ALL IMMIGRATION LAWS.
5) VOTE TO STOP THE EPA'S WAR ON COAL AND OPPOSE OBAMA'S 'CLEAN POWER PLAN'.
6) SUPPORT RESPONSIBLE NATURAL RESOURCE STEWARDSHIP AND OPPOSE RADICAL ENVIRONMENTALISM.
7) SUPPORT WITH ALL MY MIGHT THE MEN AND WOMEN OF LAW ENFORCEMENT.
8) FIGHT TO SIGNIFICANTLY REDUCE TAXES AND REGULATIONS FOR ALL AMERICANS.
9) PROTECT AND DEFEND OUR SECOND AMENDMENT AND THE FULL BILL OF RIGHTS.
10) HELP REPEAL AND REPLACE OBAMACARE WITH COST SAVING PRIVATE MEDICAL CARE.
11) WORK TIRELESSLY FOR MORE JOBS, AN INVIGORATED ECONOMY AND A SMALLER GOVERNMENT.
12) PROMOTE AN 'AMERICA FIRST' FOREIGN POLICY.
13) ADVOCATE FOR REAL EDUCATION REFORM AND FIGHT IMPLEMENTATION OF COMMON CORE.
14) PUSH FOR FEDERAL LANDS TO BE RETURNED TO THE OVERSIGHT OF THE RESPECTIVE STATES.
15) LAY THE FOUNDATION FOR HIGHWAY AND TRANSPORTATION INFRASTRUCTURE THAT MATCHES OUR GREATNESS AS A COUNTRY.