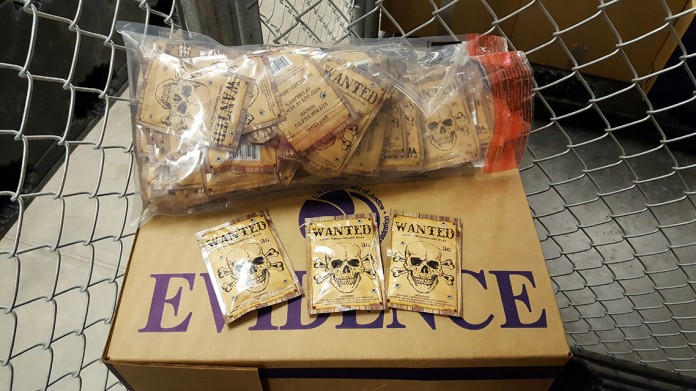 Dismantles multi-state drug trafficking organization
PHOENIX – DEA led multiple enforcement operations in Tucson and the surrounding area as part of a long-term federal investigation involving the sales and distribution of synthetic cannabinoids, aka "spice."  DEA coordinated the service of 32 federal search warrants in Tucson, Arizona; Denver, Colorado and Long Beach, California, and arrested 18 subjects identified during the course of the investigation.  Those arrested will be facing federal charges stemming from the United States Attorney's Office for the District of Arizona.
" The trafficking and abuse of synthetic drugs like Spice is a public health and safety concern for all Arizonans.  These drugs are dangerous and potentially lethal for the people who take them," said Doug Coleman, DEA Special Agent in Charge in Arizona. "DEA and our law enforcement partners will remain steadfast in our efforts to protect America's citizens from the misery of drug use and abuse."
Nearly 600 pounds of synthetic cannabinoids were seized and a possible spice lab dismantled as a result of the enforcement operation, which also netted several luxury vehicles and over $350,000 in cash.
"This operation will be instrumental in restoring the quality of life for the neighborhoods impacted by the effects of the "spice" epidemic.  We would like to thank the federal and local partners who participated with us during this investigation, as well as the community, who has patiently waited for this investigation to conclude," stated Chief Chris Mangus, Tucson Police Department.
" IRS-Criminal Investigation (IRS-CI) is proud to partner with the DEA and other law enforcement agencies in combatting drug trafficking.  As they did in this case, IRS-CI Special Agents use their unique investigative skills to identify and trace the vast sums of monies that are generated by the sale of illicit drugs," stated IRS-CI Special Agent in Charge Ismael Nevarez Jr.
"HSI and our federal and local partners are at the forefront of combating illicit activities to include the sale of synthetic drugs," said Bradford A. Bench, interim special agent in charge of HSI Phoenix.  "Criminals who seek to spread their illegal business in our communities will not escape the reach of law enforcement.  We continue to investigate, disrupt and dismantle hidden illegal and dangerous networks that pose a threat to the public."
"Border Patrol ardently supports DEA drug enforcement activities. Reducing the availability of dangerous drugs and making our communities safer is a shared responsibility," stated Tucson Sector Border Patrol Chief Patrol Agent Paul Beeson.
"Through the combined efforts of local, state and federal law enforcement agencies, today's arrests truly impact the safety and well-being of citizens within our local communities.  We will continue to work with our partners to keep our communities safe." -Michael DeLeon, Special Agent in Charge of the FBI Phoenix Field Office
DEA, along with the IRS-Criminal Investigations, United States Border Patrol, Tucson Police Department (PD), Sahuarita PD, and the Counter Narcotics Alliance conducted the investigation and were supported by the Federal Bureau of Investigation, Homeland Security Investigations, the Bureau of Alcohol, Tobacco, and Firearms, as part of the DEA OCDETF Strike Force.  Over a hundred personnel from federal, state and local Tucson agencies supported the enforcement endeavor, including Customs and Border Protection, HSI Enforcement and Removal Operations, United States Marshals Service, South Tucson PD, and the Pima County Sheriff's Office.
"Synthetic cannabinoids are sold as "herbal incense" and "potpourri" under names like K2 and Spice, as well as many other names, at small convenience stores, head shops, gas stations and via the Internet from both domestic and international sources. Overdose deaths have been attributed to the abuse of synthetic cannabinoids, including death by heart attack." (Drugs of Abuse, DEA https://www.dea.gov/pr/multimedia-library/publications/drug_of_abuse.pdf#page=64)