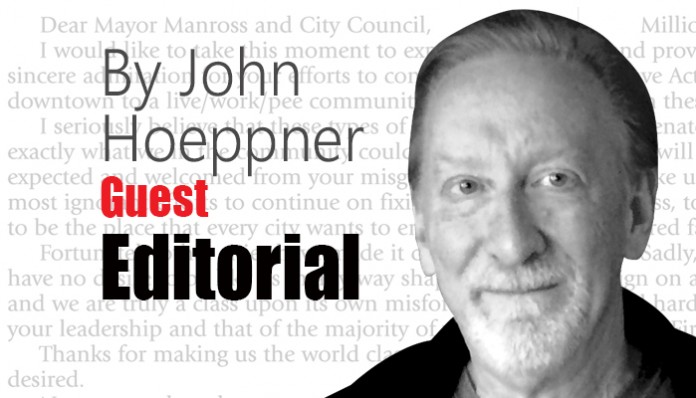 If ever there was a town that could claim the title of heaven-on-earth I am certain that town would be Cave Creek, Arizona. Recently I attended the Sonoran News sponsored candidates' night at Cave Creek Town Hall. I couldn't help but notice that on the wall behind the council dais were two large frames proudly displaying an original copy of the July 8, 1986 Cave Creek Messenger newspaper. This newspaper was published one time to support the election and subsequent founding of the Town of Cave Creek.
Anyone who has seen the western series Lonesome Dove may remember the San Antonio saloon scene. Gus notices a very old photo behind the bar of him with Call in their ranger days. Included in the Cave Creek Messenger was a 30-year old photo of the Cave Creek Incorporating Committee (only three of us left). As I reminisced about the incorporation of Cave Creek, I was reminded of why we declared our independence as a town: to preserve the past and plan for the future.
Based on the comments of the candidates that attended the Sonoran News forum I sincerely believe that each person has a love of the community and will selflessly serve the town. The question for voters is which candidate or candidates will most effectively serve the town. Personally, I will not vote for anyone that lacked the courage to participate in the Sonoran News forum and publicly articulate their views.
There are several issues the candidates did not discuss and issues that did not receive proper attention. Here are a few of the items that should be a part of the plan going forward.
1.    Public Parking: Needed for special events to improve business revenue
2.    Pedestrian Sidewalks: Needed for public safety and to improve business revenue
3.    Alternative Traffic Routes In Town Core: Safety issues and will help create a real and vibrant downtown Cave Creek. Think tourism in Jackson, WY or Tombstone, AZ
–      Safety: Need pull-out lane on Cave Creek Rd & Galloway for eastbound traffic
–      Safety: Better Traffic Control (stop signs) at Cave Creek Rd & Schoolhouse
4.    Power Lines: Underground utilities through the town core to enhance community attractiveness
5.    Bike Lanes: Restore the uniqueness and ambiance of Cave Creek Road by mitigating the destruction of medians and natural desert vegetation.
6.    Community Support: Provide funding to support the Cave Creek Library and the Cave Creek Museum
7.    Emergency Services: Provide funding for fire and ambulance services without any additional tax burden on residents.
8.    Cave Creek Road Lane Closures: No more lane closures or parking except for Fiesta Days, Wild West Days and Homecoming parades
9.    Town Right-Of-Ways: Do not allow any private enterprise to build on Town owned property
Some of the candidates at the forum suggested Cave Creek is a tourist destination with a need for additional hotels. Previously, I have worked as a consultant and have received economic development awards for marketing state tourism and national attractions such as Busch Gardens, Sea World and the Black Hills of South Dakota. Unless Cave Creek is willing to carve up Elephant Butte with presidential faces, the town is not a destination. In reality the attractions in the Valley (golf, resorts, business meeting venues, professional sports & etc.) are the tourist magnets. Cave Creek's unique Western theme, cowboy saloons, eclectic shops, rural natural beauty and hiking trails are day trips for Valley visitors and residents.
In my opinion, as a community we need to join together to maintain and improve the quality of life we have all worked so hard to protect. In 1986 Ted Rothman, Cave Creek Incorporating Committee member and Cave Creek's first mayor said, "If we don't incorporate, we're gone. We'll be torn three different ways by Phoenix, Scottsdale and Carefree." Thankfully, our incorporation has blessed us with the independence to build a community that matches the values of our proud residents. As long as we continue to incorporate our values into public policy, we can continue to preserve our history and adapt to our future. Happy 30th Birthday Cave Creek!
John Hoeppner served on the 1985-86 Cave Creek Incorporating Committee and twenty-years of service as the Republican Cave Creek Precinct Captain and State Committeeman. John is recognized worldwide as a leading expert in the discipline of brand research and development. He has received five prestigious AMA Edison Awards for domestic and global Fortune 500 clientele.