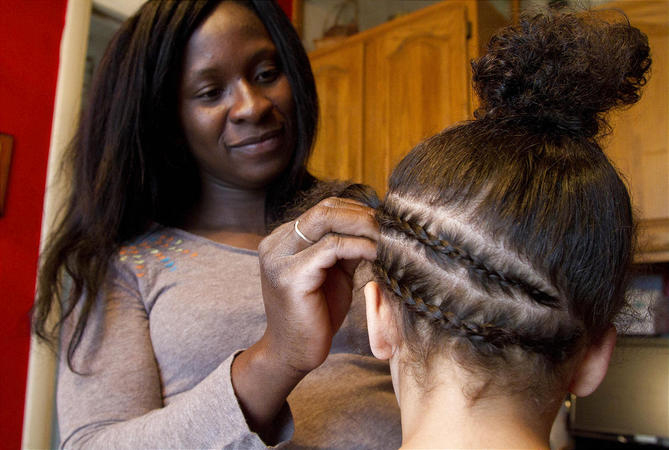 Hair braiders, an occupation very popular in African-American communities, do exactly what their title implies
CAVE CREEK – Occupational licensing, which, back in the 1950s was probably required for perhaps one in 20 workers, continues to expand and today affects approximately 30 percent of U.S. workers.
And we're not talking about medical and legal licensing or for jobs that could pose a threat to public health or safety.
In 2012, the Institute for Justice published a study by Dick M. Carpenter II, Ph.D., Lisa Knepper, Angela C. Erickson and John K. Ross, titled "License to Work: A National Study of Burdens from Occupational Licensing."
The study measured how burdensome occupational licensing laws are for lower-income workers and aspiring entrepreneurs across all 50 states and the District of Columbia.
Surprisingly, Arizona ranked first as the most extensively and onerously licensed state with the fifth most burdensome licensing laws, requiring licenses for 64 out of 102 moderate-income occupations.
The study notes Arizona's poor rankings are mostly due to its licensing of construction trades, requiring a license for nearly every construction trade, while approximately 20 states require no such licensing for work on commercial properties and around 40 states require no such licensing for work on residential properties.
Additionally, Arizona requires four years of apprenticeship for a general/commercial license and two years for a residential license.
Arizona also imposes above-average education and training requirements on other occupations such as manicurists, for example, which requires 140 days of education and training, while the national average is 87.
Pharmacy technicians require two years of education and training in Arizona compared to none in eight states with minimal requirements or the other 39 that do not license the occupation.
The study recommended that Arizona drastically reduce these burdens or eliminate some in their entirety to improve employment prospects for lower-income workers.
Litigation often brings about changes to onerous and unnecessary licensing demands.
For example, in 2013, the Goldwater Institute won a case on behalf of Lauren Boice, whose small business, Angels on Earth Home Beauty, connected the elderly, sick and terminally ill with licensed cosmetologists who could perform haircuts, manicures or massages right in the clients' homes.
Despite the fact that Boice did not perform any of the work, does not practice cosmetology and simply acted as a referral service, the Arizona Board of Cosmetology told Boice she needed to get licensed and open a physical salon even though her homebound clients would never visit it.
The Goldwater Institute fought for 16 months to defend Boice's constitutional right to earn a living and help her sick clients.
The Board eventually agreed to a binding settlement to never regulate Boice's business or others like it.
Another occupation affected by the interpretation, or misinterpretation, of licensing regulations, was hair braiders.
Hair braiders, an occupation very popular in African-American communities, do exactly what their title implies.
However, in several states, hair braiders have been required to hold a cosmetology license, which can require as much as 2,000 hours of training, despite the fact that most schools of cosmetology do not even teach the technique.
Nonetheless, in 1998, the California Board of Cosmetology accused a hair braider of practicing without a license, which is penalized by up to one year in jail plus a fine.
However, the California law requiring hair braiders to obtain a cosmetology license in order to apply their trade was struck down as unconstitutional by the U.S. District Court, holding it violated the due process clause of the 14th Amendment.
A federal judge ruled in 2012 that Utah's law requiring anyone who worked on hair, including hair braiders, hold a cosmetology license or barber license was unconstitutional and stated, "Utah's cosmetology/barbering licensing scheme is so disconnected from the practice of African hair braiding, much less from whatever minimal threats to public health and safety are connected to braiding, that to premise [the plaintiff's] right to earn a living by braiding hair on that scheme is wholly irrational and a violation of her constitutionally protected rights."
Earlier this year Kentucky eliminated licensing requirements for hair braiders. Previously, those who were employed in that occupation had to take approximately 1,800 hours of unrelated coursework and a six-month internship to obtain a license.
Arizona, along with a few other states recently exempted the occupation of hair braiding from cosmetology licensing.
During the most recent legislative session Gov. Doug Ducey signed HB 2613 into law eliminating a few other occupational licenses.