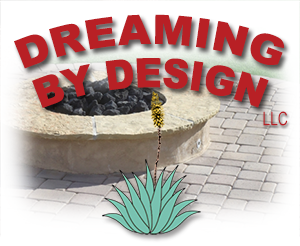 "If you can dream it, we can build it," assured Rodrigo "Rod" Placencia of Dreaming by Design Landscape. "Dreaming and doing" include stones and pavers (patios and pool decks, driveways and walkways), hardscape features (fire pits, beehive fireplaces, BBQ grills, outdoor kitchens, block walls) landscape design (water features, trees, plants, turf, putting greens) and landscape elements (lighting, gates, irrigation, custom entryways). "We've even had customers ask if we can patch something or hang a ceiling fan. If we're there and we can do it, we will." It's Placencia's above-and-beyond attitude that's allowed him such success for twenty years.
Dreaming by Design, founded by Placencia, is family owned and operated. It's licensed and bonded, he offers free estimates and there's a one-year warranty on all work. Placencia and his long-tenured team travel all over the state and Rod encourages those with ideas from simple to abstract to call because he means it when he says: "We do it all – Large or small!" (For a peek at his many projects, see www.dreamingbydesignllc.com)
Placencia and his customers have been dreaming and building so well together that 60 percent of his business is repeat biz. "Or a lot of times, I'll do work in a neighborhood and the neighbors will see it and ask if I can come to their homes." Yes, they are that impressed!
Call Rod Placencia, he's fluent in English and Spanish, at 602-413-4370, and share your backyard vision with him. He knows what adds value to a property and he understands the need to comply with HOAs. Best of all, he knows how to dream!