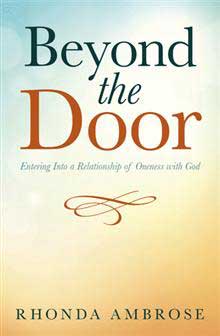 Author advises readers how to live intimately with God in new book 'Beyond the Door'
WILMINGTON, N.C. – Author Rhonda Ambrose believes there is a vast difference between knowing about God and actually knowing Him. In her new book, "Beyond the Door: Entering into a Relationship of Oneness with God" (published by WestBow Press), Ambrose helps readers push themselves beyond what they have heard or thought about God and step into a life of intimate connection with Him.
"As Christians we are often told what to do but not how to do it," Ambrose says. "This book provides the reader with a grid or example from which to launch into their own journeys toward oneness with God."
"Beyond the Door" is comprised of 10 chapters that detail how to become closer to God by metaphorically "soaking" in His company, how to effectively engage in the stories of the Bible and how to cultivate a secret relationship with God, among other pointers for living more intimately with Christ.
"Interacting with God is exciting, fulfilling and life-altering," Ambrose says. "Everything we need or desire is found in union with God. As we experience His true nature, we find He has resolutions for every issue in life and is ready and willing to share them."
"Beyond the Door"
By Rhonda Ambrose
Hardcover | 5.5 x 8.5 in | 108 pages | ISBN 9781490865218
Softcover | 5.5 x 8.5 in | 108 pages | ISBN 9781490865201
E-Book | 108 pages | ISBN 9781490865195
Available at Amazon and Barnes & Noble