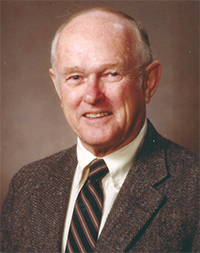 Richard Charles Stavoe (Dick) passed away in his home on April 20, 2016. Born January 20, 1927 in Chicago and raised in Madison Wisconsin, Dick settled in the Detroit area where he attended Grosse Point High School. During WWII, Dick enlisted in the United States Army and served in the Pacific. Following the war, Dick attended Michigan State University and the University of Michigan Law School, where he courted his bride Ella Marguerite Buetindorp (Peggy).
Dick began his law career with the Macomb County Prosecutor's Office. He went on to serve as Justice of the Peace, Utica City Attorney, Magistrate, Law Firm Partner and President of the Macomb County Bar Association. Furthermore, Dick served the people of Michigan as a Judge for 35 years. Dick and Peggy were together 64 years. They retired to Scotts
dale in 1990 and Dick loved living in Arizona's Sonoran desert. As an avid swimmer, skier, scuba diver and adventurer, Dick traveled the world with Peggy. Dick was also fortunate to have shared many of his life experiences with close friends and family.
Richard C. Stavoe is preceded in death by his father Olaf B. Stavoe and mother Winifred T. Stavoe. He is survived by his wife Peggy; children Chuck Stavoe and Laurie, Jim Stavoe, Eric Stavoe, Douglas and Monica Stavoe; grandchildren Andrea, Ross, Katherine, Andrew; and brother Wayne Stavoe. Dick lived a unique and full life. Husband, Father and Grandfather, you will be missed dearly.