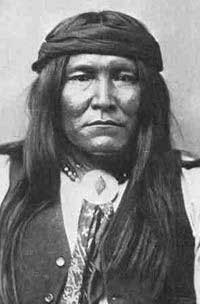 The new novel, "Chatto's Promise" traces the deadly raid by the Apache warrior, Chatto, and his band of 21 raiders through the area near Cave Creek in 1883.
Buckeye, Arizona, resident and career broadcast journalist, John Sandifer weaves a wild tale about the Apache Wars, which continued for nearly 40 years.  He emphasizes the role of Chatto, a Chokonen warrior and medicine man.  Chatto rode with Cochise and Geronimo and staged a 700-mile raid through parts of Arizona and New Mexico that took more than 40 lives and set off a national outcry when his men killed a prominent Silver City judge and his pretty wife and kidnapped their six-year old son.
The Buckeye author tells how Chatto surrendered after his wife and two children were captured by Mexican soldiers and he turned to the U.S. Army for help getting them back.  He became a top scout and an enemy to his old mentor, Geronimo.
Chatto was rewarded for years of life threatening service as a scout by what Sandifer calls one of the worst double-crosses in the history of the west, when the U.S. Government put him, other scouts, and peaceful Apaches living on the reservation in prison for 27 years.
In addition to writing, Mr. Sandifer is a contributing watercolor artist at the Catitude Art Gallery in Avondale and a former award-winning Anchor and Reporter for television station KING TV in Seattle, retiring in 1994.  His background includes intensive coverage of the Ted Bundy murders and those of the Green River Killer.  After his career in broadcast, he was an Executive Director of the American Federation of Radio and TV Artists until 2006.  Since then he has occupied a winter home in Arizona and written books about men in three wars; the Civil War, World War II, and now, the Apache Wars.
"Chatto's Promise," is now available through Amazon.com.