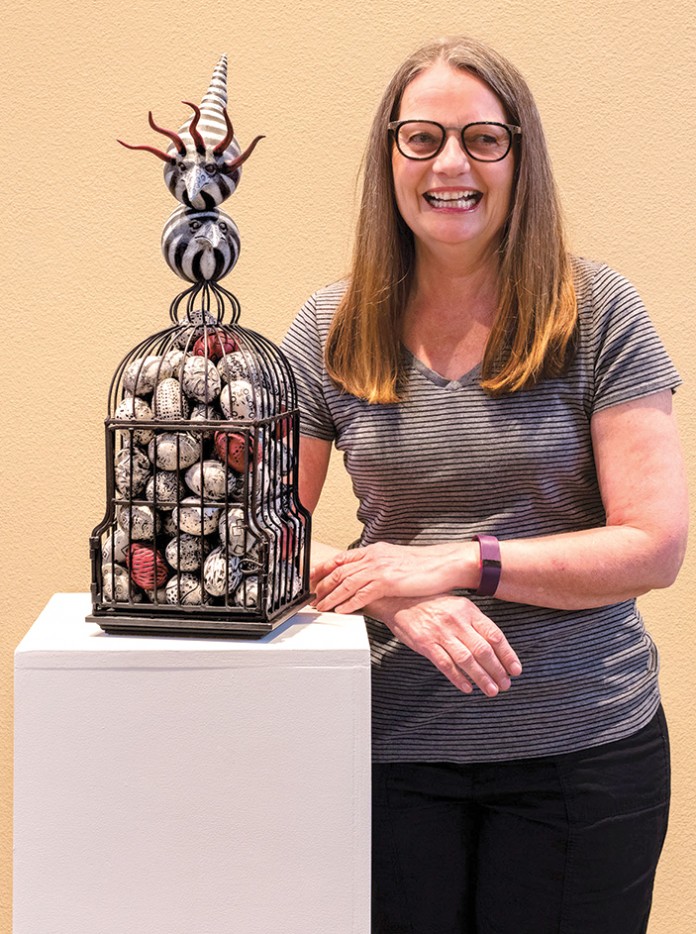 Linda Korstad's "Wishing and Hoping" is selected as the featured piece for the artist directory cover
CAVE CREEK – Arizona's largest and longest-running artist studio tour and sale, Hidden in the Hills (HITH), celebrates its 20th year during the last two weekends of November, Friday, Saturday and Sunday, November 18,19, 20 and November 25, 26, and 27, 2016. A signature event of the non-profit Sonoran Arts League, Hidden in the Hills features more than 180 artists in 47 studio locations throughout the scenic Desert Foothills communities of Cave Creek, Carefree and North Scottsdale.
The free, self-guided studio tour offers seasoned collectors and art enthusiasts a rare chance to observe artists at work in their private studios, which are open to the public from 10 a.m. to 5 p.m. during the six-day tour. Each studio has one or more guest artists who also display and sell their work. All HITH artists are Sonoran Arts League members, and several will be coming from different parts of the state to participate in the annual event. Many guest artists also set up to demonstrate.
"This year's Hidden in the Hills promises to be one of the best yet, with a wide variety of styles, mediums and price ranges," Pat Bell-Demers, Sonoran Arts League executive director and HITH event co-chair, said. "With our studio tour taking place the weekends before and after Thanksgiving, it's also perfect for holiday shoppers who want to find an original, unique gift."
Known for including both nationally-recognized and emerging artists, Hidden in the Hills has attracted thousands of patrons over the past two decades.
"Many of our returning patrons have become clients and friends," said HITH event co-chair and gourd artist Jane Boggs, who has been a studio host for 18 years. "And, it's fun to see new patrons, who are first discovering how many talented artists there are in our event."
Artist Directory is a collectible.
A staple of the Hidden in the Hills event has been the four-color, glossy artist directory, which includes a comprehensive listing of participating artists with an image of their art, a large, easy-to-read map of the studios, and advertisements from participating artists.
"Back in 1996, our budget for the entire tour was $250, so we didn't start printing the artist directory until 1999. Our first cover featured a brilliant piece by Claudia Hartley," said HITH marketing chair Carole Perry, a glass artist who has opened her studio to patrons for all 20 years of the tour. "As Hidden in the Hills grew, we found that people not only collected the directories, they looked forward to learning who the featured cover artist was."
Perry explained that HITH participating artists are invited to submit original pieces for consideration of the artist directory cover during a selection process, which took place on Saturday, May 14. More than 100 pieces of art were submitted and the committee chose "Wishing and Hoping" by Scottsdale artist Linda Korstad.
Korstad, who describes herself as a mixed media sculptor, said she loves working with clay and found objects. Her creations are often thought of as whimsical in nature and quirky.
"Becoming a full-time artist has been quite a journey," Korstad said, "My current work is the result of working with a talented team of mentors and my intense drive for pushing the materials to a high level of finish. Although the prospect of getting the work to a higher level can be daunting, I have learned to surrender and just let things happen."
The Sonoran Arts League will begin selling the 20th Anniversary Hidden in the Hills artist directories for $5 in October. An interactive website, www.HiddenInTheHills.org, offers more details about each participating artist and a user-friendly map-building program to help visitors plan their free, self-guided tours. The event also helps to raise funds for the League's youth scholarships through a portion of sales from the event's Youth Art exhibit at Studio 1 and artist fees to participate in the event.
For more information, call 480-575-6624, or visit www.HiddenInTheHills.org.