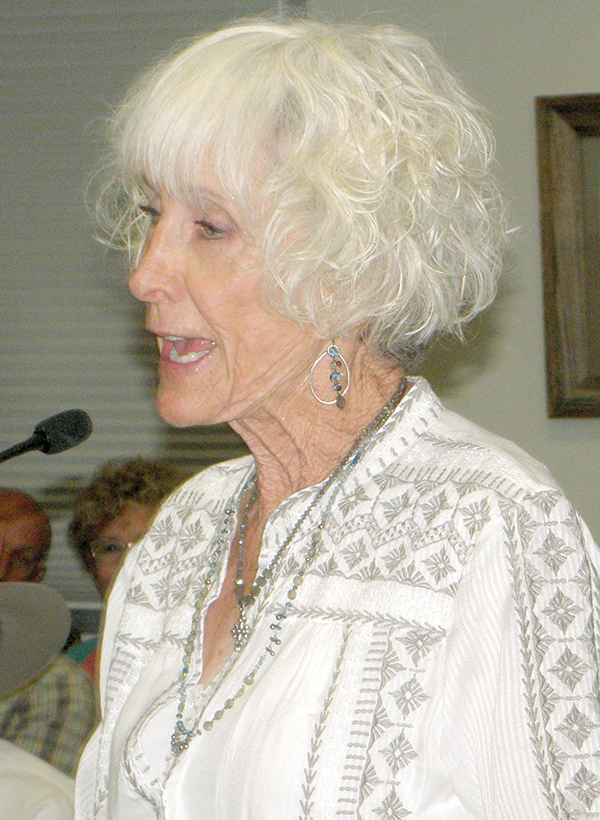 CAVE CREEK – During the April 18 council meeting, Mayor Vincent Francia said he hoped Steve Betts' presentation at the April 2 meeting would "put an end to the fear mongering."
Betts is a Cave Creek resident who served on Gov. Doug Ducey's transition team and was contracted by the town as a consultant to help come up with a way to conserve the approximately 4,000 acres of state land annexed into the town as open space.
His presentation updated citizens on a series of meetings that were held with the deputy state land commissioner and his staff at the Arizona State Land Department (ASLD).
Betts said those discussions have led to exploring the possibility of forming a Mitigation Bank (MB) for the purpose of conserving those lands.
Although the plan ultimately needs to be approved by U.S. Army Corps of Engineers, it would conserve the 4,000 acres in perpetuity "without costing the town an arm and a leg."
Despite his presentation, Eileen Wright, who has been mailing her Cave Creek Pony Express flyer to Cave Creek residents, continues to misrepresent to citizens that the town is pursuing the purchase of those 4,000 acres at a price she asserts would be between $65 million and $180 million.
Betts is not being paid $60,000 as a consultant to find a way for the town to buy the 4,000 acres, as Wright asserts in her flyer, but rather to help the town find a way to preserve those 4,000 acres, without purchasing the land.
There is also no truth to Wright's perpetual fear mongering that a property tax is looming.
Wright, who didn't make the cut when she ran for council in 2013 on a platform of having the "ability to be intelligent," as part of Adam Trenk's subsequently recalled slate, has now suspended publication of her flyer to focus on her campaign for the upcoming council election.
During the Sonoran News' Jan. 30, 2013 candidate forum, Wright accused the sitting council of financial misconduct and demanded a forensic audit to "uncover wasteful spending."
Her unsubstantiated accusations spurred the normally even-keeled Buddhist Francia to go on a bit of a tirade. He told Wright and her co-slate candidates, "Nothing I have heard from the challengers tonight would make me vote for you," and called their speech "hateful."
After losing her bid for council, Wright was somehow able to get appointed to the planning commission.
While serving on the planning commission, Wright displayed a complete disregard for the town's zoning ordinances when it came to developers not only meeting but exceeding its requirements.
For example: Wright voted against recommending approval of the Tractor Supply site plan because the applicant wouldn't acquiesce to her demands for even more concessions when they had already exceeded the town's requirements.
Council subsequently removed Wright from the commission before the end of her term.
Wright was also one of the conspiracy theorists involved in fighting the Enchanted Canyon project.
Despite the project never standing a chance of getting approved, Wright continued to rally against the project even after the application was withdrawn.
Francia knows all too well about how attempting to dispel false rumors in Cave Creek often does little to quell their spread.
Despite the mayor repeatedly assuring citizens the rumors about Morning Star Road being paved in order to bring traffic through from the Cahava Springs development, or that Rural/Metro plans to build a fire station at the site of a private residence on Spur Cross Road, and other such tales, were all false, the rumors persist.
While Wright advocates proactive enforcement of the town code, a majority of citizens have vehemently expressed objections to that approach in the past, preferring instead to continue the current complaint-driven system.
Wright believes she knows what's best for the town but has been unable to convince voters to agree with her expressed "vision for the survival of our town."
By the way, since Wright basically accused the town of malfeasance in 2013, demanding a forensic audit to "uncover wasteful spending," the town has breezed through each of its annual audits without any findings of wrongdoing.