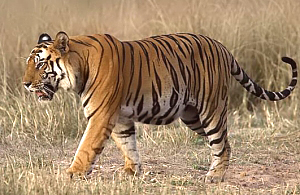 LOS ANGELES – After a lifetime of suffering in a South American circus, Hoover the tiger has found his forever home. A seizure to enforce Peru's ban on wild animal circuses by wildlife officials and Animal Defenders International (ADI) saved Hoover, the only survivor from a group of twelve. Next month, he'll be flown to his new home at Big Cat Rescue in Tampa, Florida where he will spend his days relaxing in the sunshine, a world away from the abuse he has suffered his entire life.
During a series of raids, Hoover was almost the one that got away. The circus had gone underground but after eight months of searching, ADI received a tip-off and moved in for a surprise operation against the circus in northern Peru, close to the border with Ecuador. Hoover was then taken to ADI's temporary rescue center near Lima, he was frightened, sick and emaciated. Months of tender loving care, veterinary attention, toys and exercise has seen Hoover recover and thrive.
ADI President, Jan Creamer said, "Hoover's sad life in a tiny cage watching his family die, has been full of pain and suffering. It is a privilege to be working with Big Cat Rescue and know Hoover will be happy and safe in a wonderful home for the rest of his life. He has special needs and deserves special attention – and that is exactly the kind of care that Big Cat Rescue does so well. He's out of the circus, but now we need help to get him to his forever home." http://bit.ly/1RBsX2R
At his new home at Big Cat Rescue, Hoover will enjoy a very spacious enclosure with lots of shady trees and soft grass. He will even have access to a spring-fed lake, where he can swim and splash about whenever he likes. Hoover's habitat also features a large platform, several dens and plenty of toys. He will receive the best possible medical and dental care and nutrition, as well as mentally stimulating and fun enrichment treats at least twice per week.
"Big Cat Rescue is thrilled to be working with Animal Defenders International to provide a forever home for Hoover the tiger," said Big Cat Rescue Founder Carole Baskin. "We have long admired Animal Defenders International's dedication to rescuing former circus cats from numerous countries. We are happy to provide Hoover with a peaceful home at our sanctuary where he will spend the rest of his life enjoying the warm breezes of Florida while relaxing in the grass, lounging on his platforms and swimming in our lake. After all his suffering, we hope people will take Hoover to their hearts and donate towards his lifetime care." http://bigcatrescue.org/Hoover/
ADI's Operation Spirit of Freedom has successfully removed all wild animals from circuses in Peru and over 100 animals have been saved, making it the largest rescue of its kind. Native wild animals including bears, monkeys, birds and reptiles have been built homes in their Amazon habitats, 33 lions will be going home to Africa and Hoover will find peace and safety in Florida.
Please donate for Hoover's lifetime care at Big Cat Rescue. Visit http://bigcatrescue.org/Hoover/.