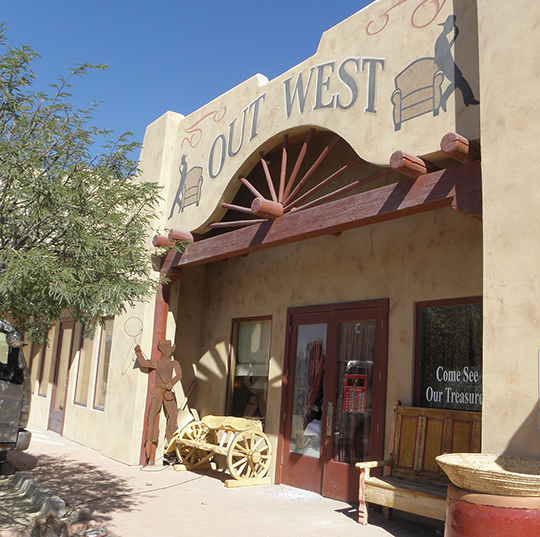 CAVE CREEK – Robert Sexton arrived at his store March 4 to find it had been broken into. It appears the burglar(s) used a rock to break one of the double-pane glass doors to gain access. Sexton and his wife Beverly, owners of Out West, located at 38252 N. Jacqueline Dr., between Wild West Pawn and the Lazy Lizard in Cave Creek, have become the latest victims in a string of residential and commercial burglaries and thefts that have been plaguing the northeast Valley, including Cave Creek, Carefree, North Scottsdale, North Phoenix and unincorporated county areas.
Since Out West is primarily a custom upholstery, furniture and interior design boutique, Sexton was trying to access what might have been stolen while waiting for Maricopa County Sheriff's Office deputies to arrive. He noted merchandise was damaged where the burglars broke in and said it appeared some leather goods had been stolen from a display rack.
Sexton pointed out the area behind the sales counter, which had been completely ransacked. When Beverly arrived, she realized their digital camera had been taken and became extremely dismayed because it held a memory disk of photos from a family visit that had not been downloaded and cannot be replaced.
Although the camera was quite valuable, as is was used to photograph merchandise, she said the family photos are worth far more to her and pleaded for whoever took the camera to please at least return the memory disk. As the Sextons attempt to determine what exactly was stolen, they received a call from the Mesa Police Department inquiring about a woman was attempting to cash one of their checks.
Because the signatures didn't match, the bank refused to cash it. However, the woman was captured on the bank's surveillance system, which could lead to an arrest and possibly help solve this and other burglary cases.